Gluten free dessert recipes are my favorite kind to create. Making decadent treats with better for you ingredients is one of my favorite past times. Today, I rounded up some of my favorites!
Table of Contents:
It's no secret I have a MAJOR sweet tooth. Every week I'm brainstorming what my latest dessert creation will be. Lucky for you, I created this epic 50+ roundup of all my favorite gluten free dessert recipes for you to peruse and enjoy!
Am I going to stop creating sweet treats anytime soon? HECK to the NO. I'll probably add to this list overtime and continue this exhaustive list of gluten free dessert recipes.
Whether you're making a sweet bread like banana bread or gingerbread or you need some birthday cupcakes, you'll find a recipe here for all your gluten free baking needs!
To be honest, I could probably add 50 more gluten free dessert recipes to this list but I reached 50 recipes and it felt…. thorough. So, I hope you find. anew favorite recipe!
If you want to browse yummy recipes by flavor, check out these chocolate recipes, peanut butter recipes, and vanilla recipes!
Sweet Gluten Free Breads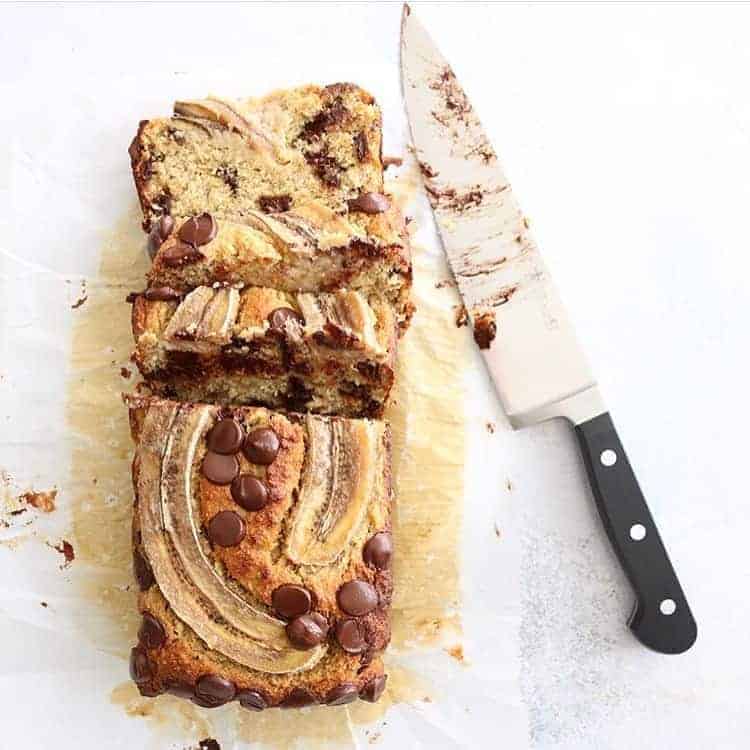 Coconut Almond Banana Bread
This Coconut Almond Banana Bread is the best low carb + gluten free banana bread you'll ever try! Who doesn't love a slice of this traditional treat drizzled with some extra nut butter?!
Gingerbread Banana Bread
Gingerbread Banana Bread is moist, and fluffy with rich molasses and warm gingerbread spices. Naturally gluten free and dairy free!
Sweet Potato Bread
Bake a tasty snack with this fluffy and moist spiced Gluten Free Sweet Potato Bread made with healthy ingredients like almond flour and sweet potato!
Lemon Poppy Seed Bread
Gluten Free Lemon Poppy Seed Bread with a fresh, jammy blackberry glaze is made with almond flour, fresh lemon and berries, and comes together in one bowl!
Chocolate Chip Zucchini Bread
This Chocolate Chip Zucchini Bread is the perfect summer recipe to use up your summer squash! It's gluten free, dairy free, and so easy to whip together!
Lemon Bread + Tangy Glaze
Easy Gluten Free Lemon Bread is moist & fluffy! Perfect for brunch or sweet treat! Drizzle it with a mouthwatering sweet & tangy glaze!
Pumpkin Bread
This gluten free and paleo Pumpkin Bread is so simple to make and is perfectly moist! You'll love this with your morning coffee or for a delicious dessert
Double Chocolate Banana Bread
The best double chocolate banana bread recipe you'll ever need! Made with almond flour, it's gluten free, dairy free, and paleo! Grab the milk and enjoy the chocolatey goodness!!
---
Fun Gluten Free Bars
Pumpkin Banana Cake Bars
Super moist gluten free pumpkin banana bread bars are made with warm autumn spices. The perfect recipe for an easy pumpkin treat!
No Bake Almond Butter Bars
Almond butter bars are an easy no bake vegan treat! Made with only a handful of ingredients this is a quick gluten free snack for everyone!
Peanut Butter Cereal Bars
No Bake Peanut Butter Cheerio Bars are so easy to make and only three ingredients!! These cheerio bars will be your new favorite snack!
Homemade Snickers Bars
These vegan and gluten free Healthy Homemade Snickers Bars are so indulgent & made with ingredients you can feel good about & will satisfy any sweet tooth!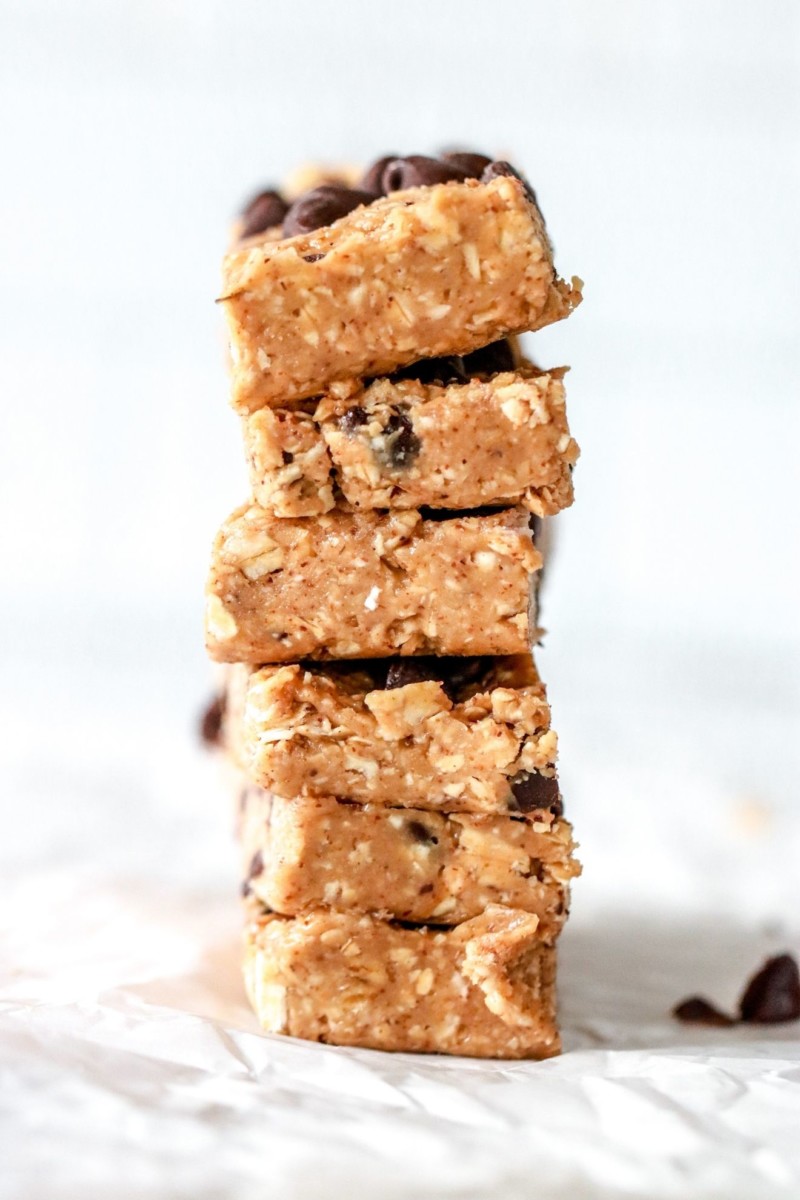 Chewy Granola Bars
These Vegan Granola Bars are made with chewy oats, peanut butter, and chocolate chips. They're only four ingredients, no bake, and naturally sweetened!
Peanut Butter Millionaire Bars
Gluten Free Peanut Butter Millionaire Bars have a buttery layer of shortbread, a sweet peanut butter middle, and a soft chocolate topping.
Healthier Magic Bars
Healthier magic cookie bars made grain-free, gluten-free and vegan with homemade coconut cream caramel and a shortbread cookie base.
No Bake Chocolate Peanut Butter Oatmeal Bars
These No Bake Chocolate Peanut Butter Oatmeal Bars come together in 10 minutes! They are a delicious gluten-free and vegan dessert recipe!
Lemon Bars
Gluten Free Lemon Bars have a delicious shortbread later topped with a sweet and tangy lemon custard. Perfect for any brunch or potluck!
Apple Crumble Bars
These Apple Crumble Bars are perfect with your morning coffee or add a scoop of ice cream for a decadent fall dessert recipe! They're paleo + gluten free!
Strawberry Shortbread Bars
These Strawberry Shortbread Crumble Bars are such a delicious gluten free and vegan treat! They're beyond easy to make, but feel fun and indulgent enough for a special occasion.
Vegan Pumpkin Pie Cheesecake Bars
Prep these Vegan Pumpkin Pie Cheesecake Bars a day or two ahead of your holiday dinner! They're smooth, creamy, and decadent with a delicious nutty crust!
Healthy Carrot Cake Bars
Healthy Carrot Cake Bars are easy to make, perfectly spiced and full of healthy ingredients like almond flour and fresh carrots!
Homemade Crunch Bars
This THREE INGREDIENT paleo, gluten free, and sugar free homemade crunch bar will be your new favorite dessert! So easy to make and so fun to eat!
Homemade Twix Bars
You will not be able to stop eating these Gluten Free + Vegan Twix Bars!! They're so indulgent but made with ingredients you can feel good about!
---
Tasty Gluten Free Cookies
Healthy Monster Cookies
The best and most outrageous monster cookie recipe! Your favorite oatmeal chocolate chip monster cookies are made healthy and gluten free!
Shortbread Sprinkle Cookies
You'll love these gluten free Shortbread Sprinkle Cookies! They are soft, buttery, and the perfect addition to your holiday cookie plate!
Hot Cocoa Cookies
Gluten Free Hot Cocoa Cookies are soft and chewy chocolate cookies topped with small, gooey marshmallows.
Salted Chocolate Chunk Shortbread Cookies
These gluten free Salted Chocolate Chunk Shortbread Cookies are easy to prep ahead for a quick and delicious slice and bake cookie dessert!
Tahini Cookies
These gluten free Tahini Cookies are such a fun surprise! They are so soft and chewy and insanely delicious!! They're my new favorite cookie!
Oatmeal Chocolate Chip Cookies
Once you have these soft baked, gooey Gluten Free Oatmeal Chocolate Chip Cookies you will never want to eat another cookie, they're so good!!
Raspberry White Chocolate Cookies
Raspberry White Chocolate Cookies are soft baked and chewy! Made with wholesome gluten free ingredients, they're the perfect dessert.
Chocolate Chip Tahini Cookies
Soft baked chocolate chip tahini cookies are crisp around the edges and gooey in the middle. Naturally gluten free and so easy to make!
Copycat Tagalongs
You'll never guess these Copycat Tagalong Cookies are grain free, refined sugar free, and paleo-friendly! They taste like the real deal!!
Chocolate Brownie Cookies
Gluten Free Chocolate Brownie Cookies are a decadent dessert for any chocolate lover! They're chewy around the edges of fudgey in the middle!
Homemade Samoas Cookies
The iconic Girl Scout Samoas are made gluten free and refined sugar free in this Homemade Samoa Cookies recipe! You won't even notice the difference!
Peanut Butter Blossoms
These Gluten Free Peanut Butter Blossom Cookies are made in one bowl, dairy free, and so easy to make for your Christmas cookie plate! Hope you love them!!
Almond Butter Chia Cookies
Almond Butter Chia Cookies are a deliciously soft and chewy cookie! Loaded with chia seeds, flax seeds, and mini chocolate chips, these healthier gluten free cookies will be your new favorite!
---
The Best Gluten Free Brownies
Fudgey Cosmic Brownies
This copycat recipe for Fudgey Cosmic Brownies is rich and chewy just like your favorite store-bought childhood treat!
Homemade Brwonie Brittle
Crunchy and fudgey brownie bark can be easily made at home. This Brownie Brittle recipe makes fun brownie crisps form scratch.
Peanut Butter Swirl Brownies
These Peanut Butter Swirl Brownies are soft, rich, fluffy, and fudgey. They are super decadent and made with almond flour so they're naturally gluten free!
Healthy Avocado Brownies
Healthy Avocado Brownies are moist and fudgey, rich and chocolatey! They're the perfect decadent dessert recipe you can feel good about!
Fudgey Cheesecake Brownies
Gluten-free cheesecake brownies are a fudgey chocolate brownie topped with a cheesecake swirl. They're flourless, super rich, and indulgent!
Gluten Free Cakes and Cupcakes
Chocolate Olive Oil Cake
Chocolate Olive Oil Cake is fluffy, rich, chocolatey and deliciously decadent. Made with almond flour, this cake is naturally gluten free!
Funfetti Cake
This gluten free sprinkle funfetti cake is perfect for a birthday or any celebration! The cake is fluffy, moist, and frosted with buttercream!
Coconut Cake
Gluten free coconut cake topped with whipped cream frosting is a fluffy, moist, and easy to make dessert perfect for any occasion!
Chocolate Chip Cookie Mug Cake
This chocolate chip cookie in a mug recipe uses almond flour and coconut sugar. The result? Gooey gluten-free goodness in just 60 seconds!
Chocolate Lava Cake
Decadently rich, this gooey Gluten Free Chocolate Lava Cake has a soft chocolate shell and a gooey molten center. Perfect with a melty scoop of ice cream!
Apple Cider Bundt Cake
Apple cider, applesauce, and cinnamon are baked into this beautiful gluten free bundt cake for the perfect fall dessert!
Funfetti Mug Cake
This easy, gluten free microwave funfetti vanilla mug cake bakes in a ONE MINUTE! It has a moist and fluffy vanilla base with fun bursts of sprinkles!
Chocolate Chunk Banana Cake
Forget about bread! This scrumptious gluten-free Banana Cake is sure to shake your post-holiday blues and get you excited for the warmer months ahead.
Vanilla Cupcakes
If you're looking for the most perfectly moist and fluffy Gluten Free Vanilla Cupcakes, look no further! This is the recipe you're been waiting for!
Red Velvet Cupcakes
Celebrate love with this recipe for Grain Free Red Velvet Cupcakes + Cream Cheese Icing! They're naturally colored with beet juice and so pretty!
Recipe
50+ Gluten Free Dessert Recipes, including Healthy No Bake Oatmeal Cookies
50+ gluten free dessert recipes perfect for any occasion! You'll find tons of recipe inspiration from sweet breads to cookies and cupcakes! 
Prep:
5 min
Cook:
chill 10 min
Total:
15 min
Ingredients
1/3 cup

semi-sweet chocolate chips

2 tablespoons

melted refined coconut oil

1/4 cup

agave nectar

1 cup

old fashioned rolled oats
flakey salt for topping (optional)
Instructions
Place the chocolate chips in a microwave-safe bowl and microwave until melted, stirring every 30 seconds until the chocolate is smooth. 
Add the melted coconut oil and agave nectar. Stir to combine.
Fold in the oats. 
Line a baking sheet with parchment paper. 
Use a cookie scooper to scoop the oat mixture into 12 mounds. 
Dampen your hands and press the tops of the mounds down slightly to flatten them and push in any oats sticking out the sides. 
Chill in the fridge for 10 minutes until the cookies harden. 
Sprinkle with salt and enjoy!
Nutrition Info:
Serving Size:

1 cookie

Calories:

97

Sugar:

9.4g

Sodium:

0mg

Fat:

4.6g

Saturated Fat:

3.5g

Unsaturated Fat:

0g

Trans Fat:

0g

Carbohydrates:

13g

Fiber:

0.4g

Protein:

1.1g

Cholesterol:

0mg