Ain't nobody dope as me I'm dressed so fresh, so fresh and so GREEN GREEN! Do you remember the first time you ate kale? I do! It was only a couple years ago when I found this recipe. I'm telling you, we loved this recipe so much we made it at least twice a week. We'd walk to our neighborhood corner store, buy the most perfectly ripe, overpriced avocados, and chop that kale like no one's business.
I thought kale would be something I'd just trudge through, eating it more for its health benefits then my actual taste for it. Turns out, I like it but it was a learn to love kinda thing. Where the learning involves a lot of avocados and toasted pine nuts 🙂
This is the perfect starter kale salad for anyone. Pretty simple to make too. There are two keys to this recipe: 1) letting the kale sit for 5 minutes in the lemon juice, and 2) finding avocados that are very soft but not overripe. I know, the avocado game can be frustrating. I buy probably 5 avocados every week and we seem to wait all week to eat them. Then every single one of them ends up getting ripe on the same day and then we eat avocados endlessly until they're gone. Have you ever seen this (below)? The struggle is real, people.
So let's make a Lemon and Avocado Kale Salad!!
Chop your kale pretty fine. I like to do one leaf at a time, otherwise things get a little overwhelming. Place chopped kale in a large bowl.
Then squeeze the lemon and strain the juice onto the kale. Mix it up so the kale is really coated in lemon. Allow it to sit while you assemble the rest of the salad, about 5 minutes. In my opinion, this step is KEY.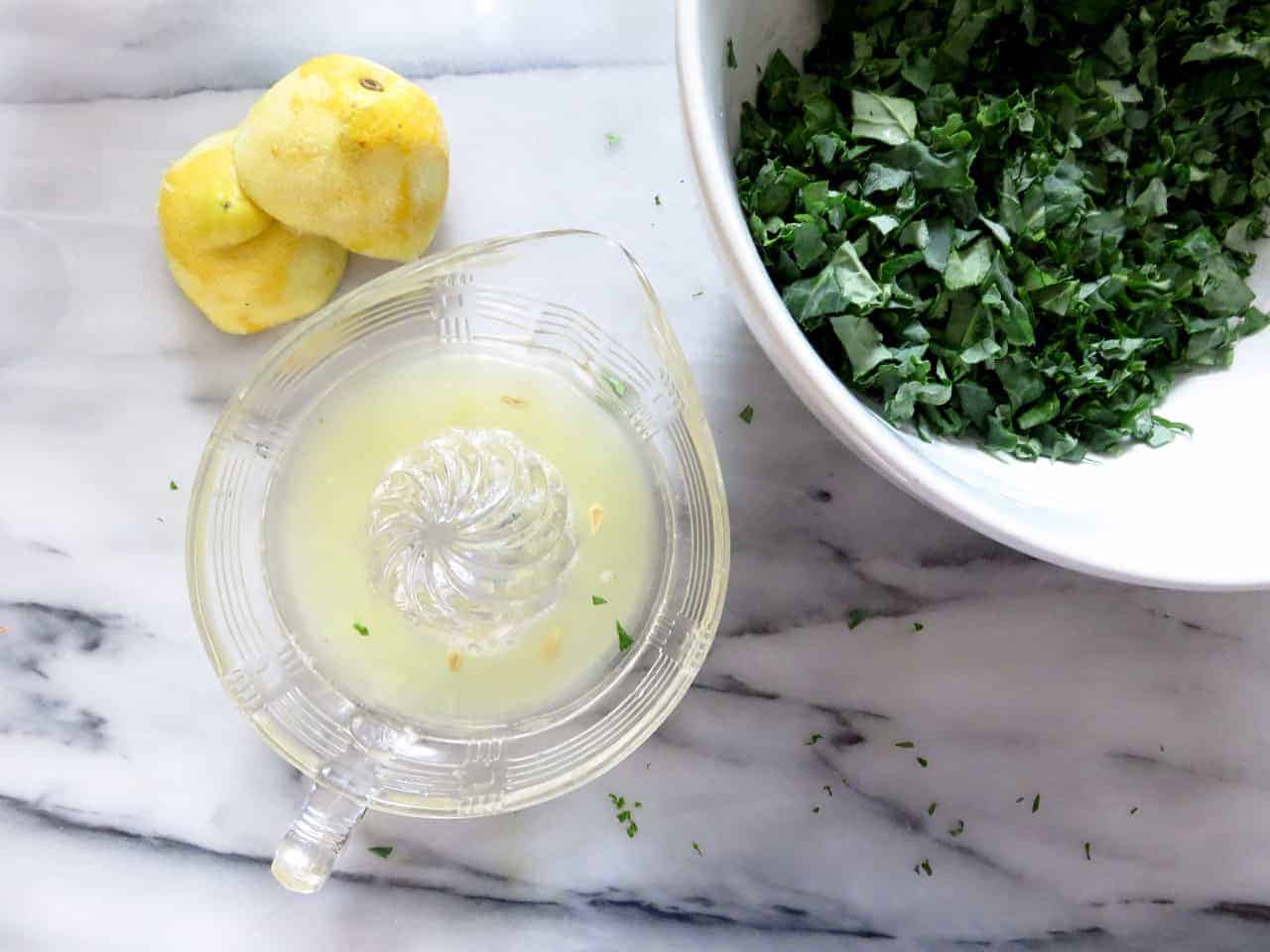 Cut your avocados into chunks and toast the pine nuts. Combine all the ingredients into the bowl, reserving some pine nuts for the top.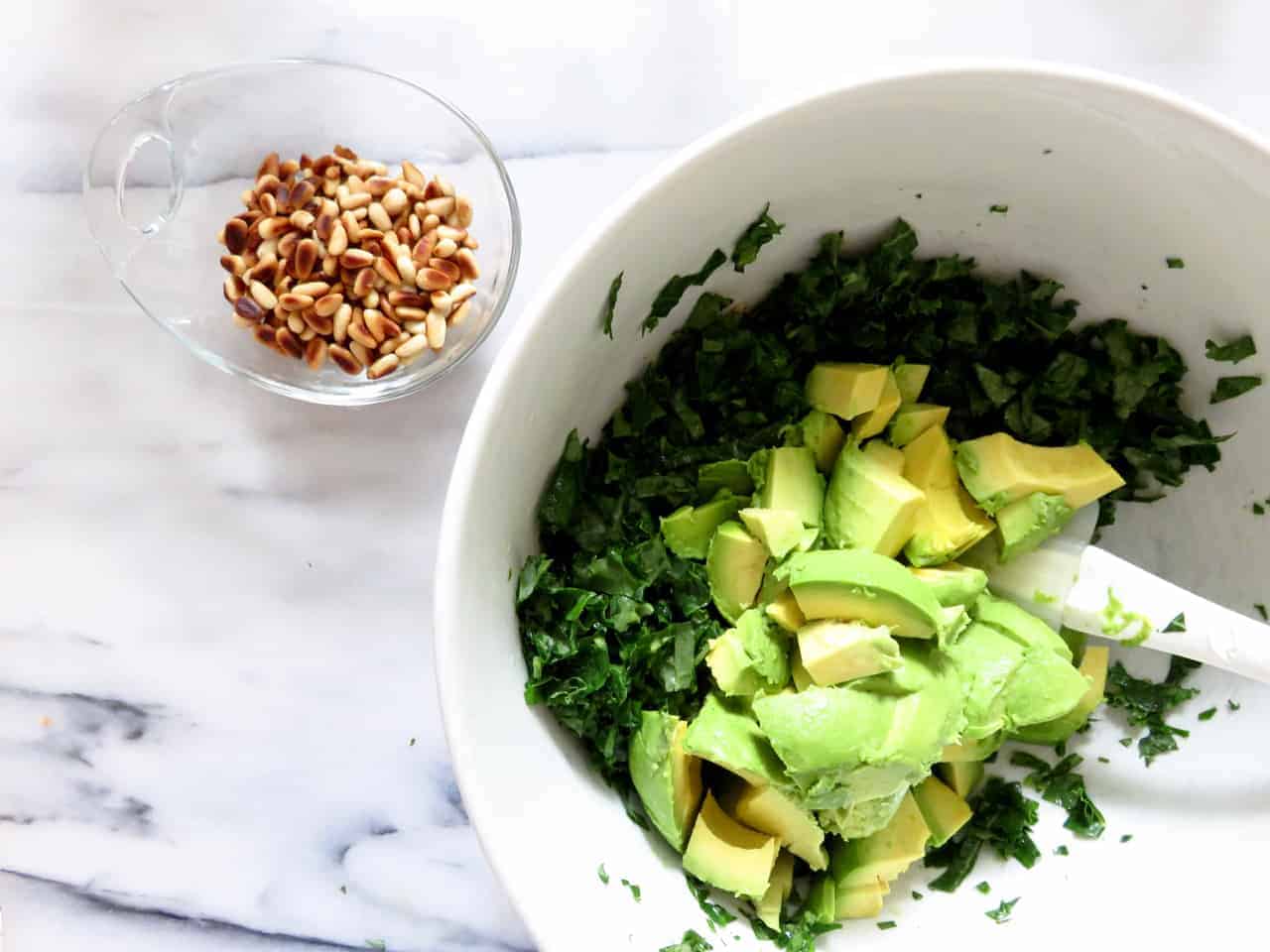 Use a spatula to kind of smush the avocados and bit, but still leave it chunky.
Place the salads in their bowls and top with extra pine nuts.
Recipe
Lemon and Avocado Kale Salad
The best kale salad ever!! The avocado, lemon, and pine nuts add such a nice touch! I'm telling you, this is your new favorite salad!
Prep:
10 mins
Total:
10 mins
Ingredients
2 cups

kale, de-stemmed and finely chopped

1/2

–

1

lemon, juiced and strained (amount depends on size and juiciness)

1 tablespoon

extra virgin olive oil

1/4 teaspoon

salt

2

ripe avocados

1/4 cup

pine nuts, toasted
Instructions
Chop the kale and place in a large bowl.
Coat the kale with the strained lemon juice and allow to sit for about 5 minutes.
Add the olive oil, sea salt, avocado, and pine nuts to the bowl, reserving some toasted pine nuts for topping.
Use a spatula to smush the avocados against the side of the bowl as you mix it, still leaving them a bit chunky.
Place the salad in bowls and top with additional toasted pine nuts.
Nutrition Info:
Serving Size:

2

Calories:

547

Sugar:

4g

Sodium:

339mg

Fat:

48g

Saturated Fat:

6g

Unsaturated Fat:

38g

Carbohydrates:

32g

Fiber:

17g

Protein:

9g
Easy as pie! Hope you're all having a great week!! xo