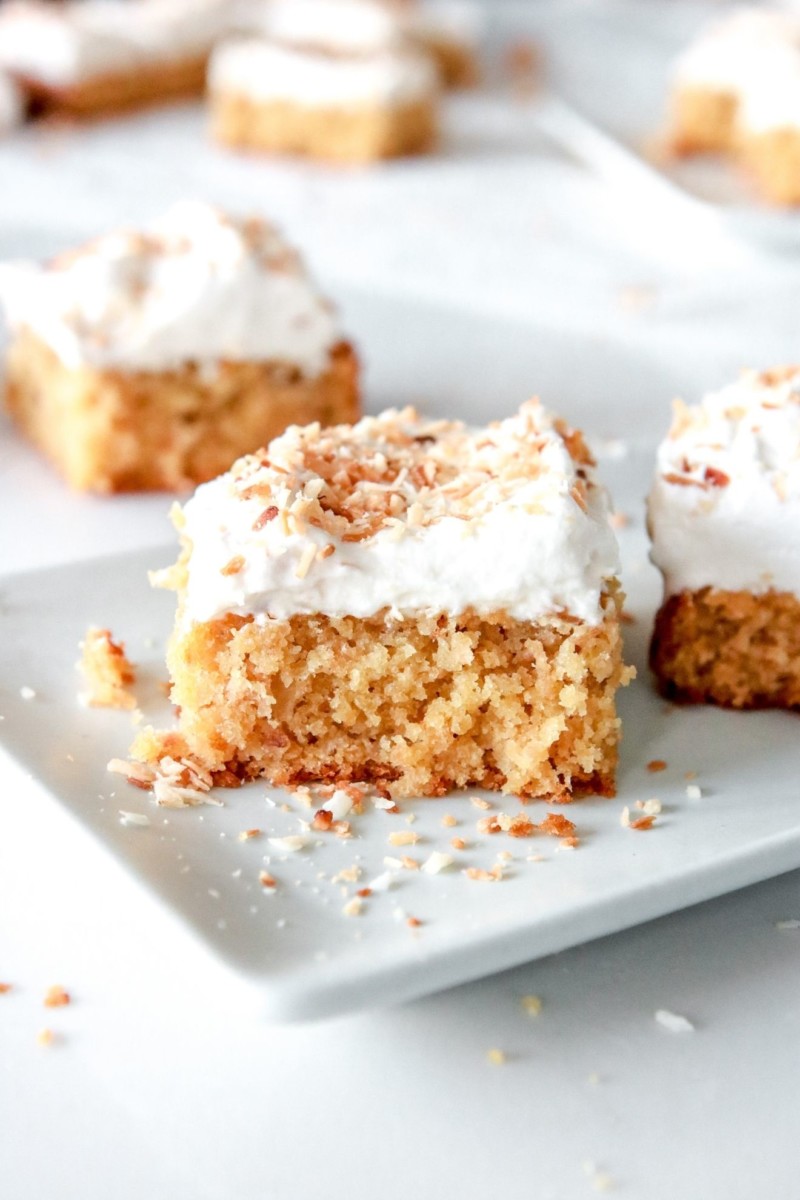 Gluten free coconut cake is about to take your dessert world by storm. It's fluffy, it's moist, it's light and pillowy!
I've always loved coconut. Coconut macaroons, coconutty almond joys, coconut cookies. You name the coconut, I consumed it happily.
With Easter coming up, I always find a renewed love for coconut. Why is that? Is coconut an Easter thing? A spring thing? I'm not sure, but I thought a coconut cake would be the perfect special occasion dessert.
This fluffy, moist toasted coconut cake will knock your socks off. It's like a fluffy cloud of coconut heaven and I can't wait to hear what you think!
Why you'll love this toasted coconut cake:
It has the perfect coconut-vanilla cake flavor!
It's insanely easy to make in one bowl!
It seems super fussy but comes together in just a few steps.
It tastes like you're eating a fluffy coconut cream cloud.
It's delightful.
It feels fancy.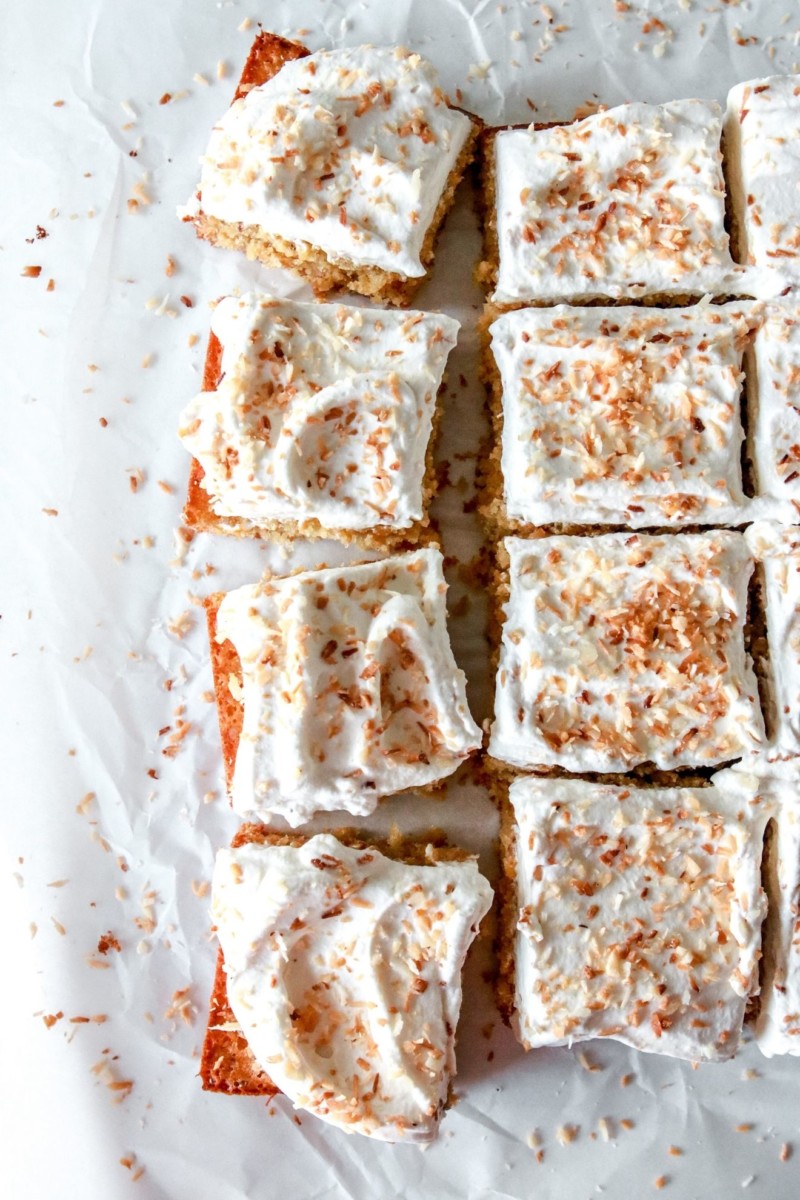 How to toast coconut shreds:
I love toasting coconut on the stovetop. I put the coconut in a pan over medium-low heat and toast it, stirring it frequently – almost constantly.
Once the coconut starts to get fragrant and turn golden brown, remove from the heat and transfer to a bowl. If you allow the coconut to stay on the hot pan, it will continue to toast and could get burnt if you take your eyes off it.
Ingredients for gluten free coconut cake:
Unsweetened coconut shreds. You can't have coconut cake without coconut! I always go for a small shred, unsweetened coconut and find it to add the perfect flavor without being overly sweet. I also think toasting the coconut before adding it to the batter is crucial and really brings more coconut flavor to the cake.
Butter. I always go for unsalted butter but you can definitely sub in ghee, refined coconut oil, or vegan butter here. Check out my favorite trick for How to Soften Butter!
Agave nectar. Honey or maple syrup or any other "sticky" sweetener would work here!
Eggs. I haven't tested this with flax eggs or any other type of egg substitute, so if you do any experimentation, let me know how it goes!
Vanilla extract. This is kinda a must for this recipe! It really adds a lot of flavor and gives the cake the perfect vanilla-coconut flavor.
Oat flour. I love using oat flour lately! It gives baked goods a fluffy and light texture. I haven't tested this with almond flour, but if you want to give it a try, I'd suggest adding an extra 1/4 cup or so.
Baking powder. This will give the cake a fluff factor we all want!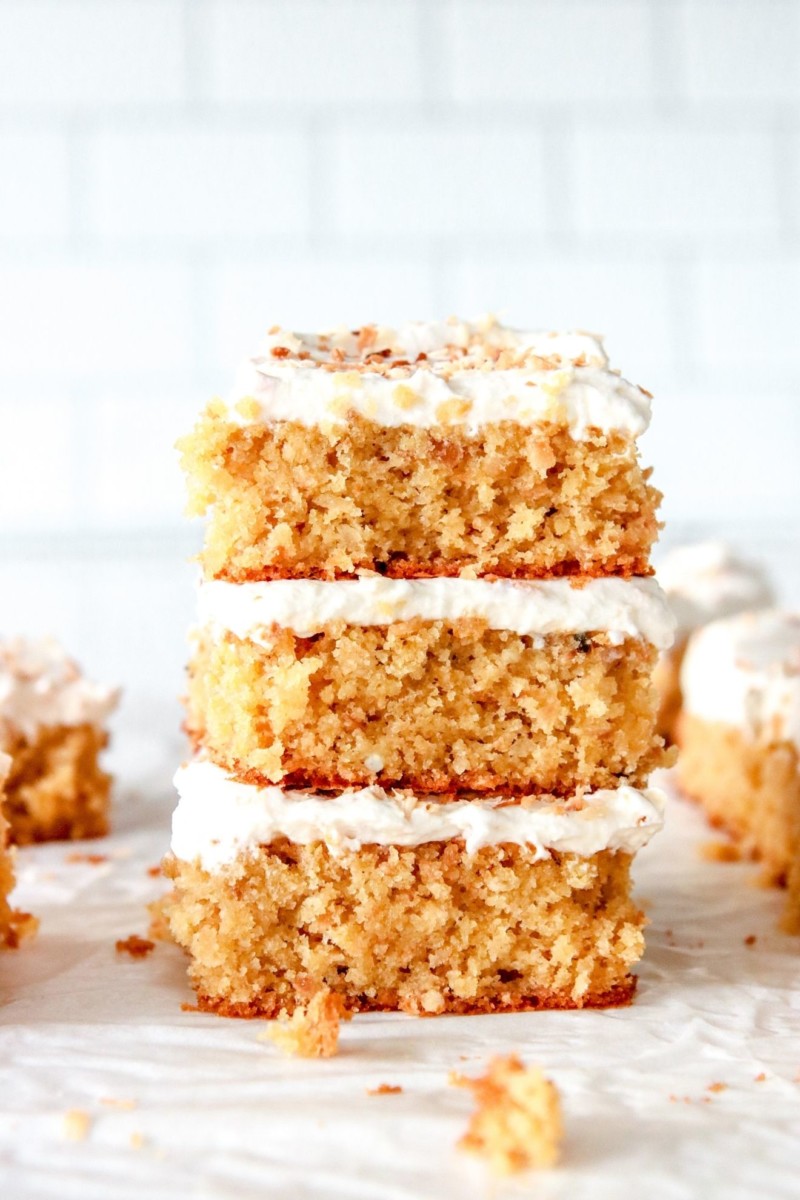 How to make gluten free coconut cake:
Toast. Place the coconut in a pan over medium-low heat and toast, stirring very frequently (almost constantly) to make sure it doesn't burn. Once it becomes fragrant and golden, remove from the heat and place into a separate bowl.
Mix. Mix together the melted butter, sweetener, eggs and vanilla. Add the dry ingredients and mix until combined.
Fold. Fold in most of the coconut shreds, reserving about 1 tablespoon to sprinkle on top of the cake once it's frosted.
Bake. Line a square pan with parchment paper and pour the batter in. Bake for 17 – 20 minutes until golden brown on top.
Cool. Allow the cake to cool for five minutes and then transfer to a cooling rack. Allow the cake to cool completely before you frost it.
Fluffy whipped cream frosting:
It's so fluffy, light, almost cloudy like. It's the perfect topping for this light and fluffy vanilla coconut cake.
Place the cream, agave and vanilla in a bowl and whip on high with an electric mixer. Whip on high for 2 – 3 minutes until the cream starts to stiffen and get fluffy.
Can I make this gluten free coconut cake into cupcakes?
Yes! Divide the cake batter into lined cupcake tins and bake for 10 – 15 minutes until the tops are golden brown. Allow the cupcakes to cook completely before frosting.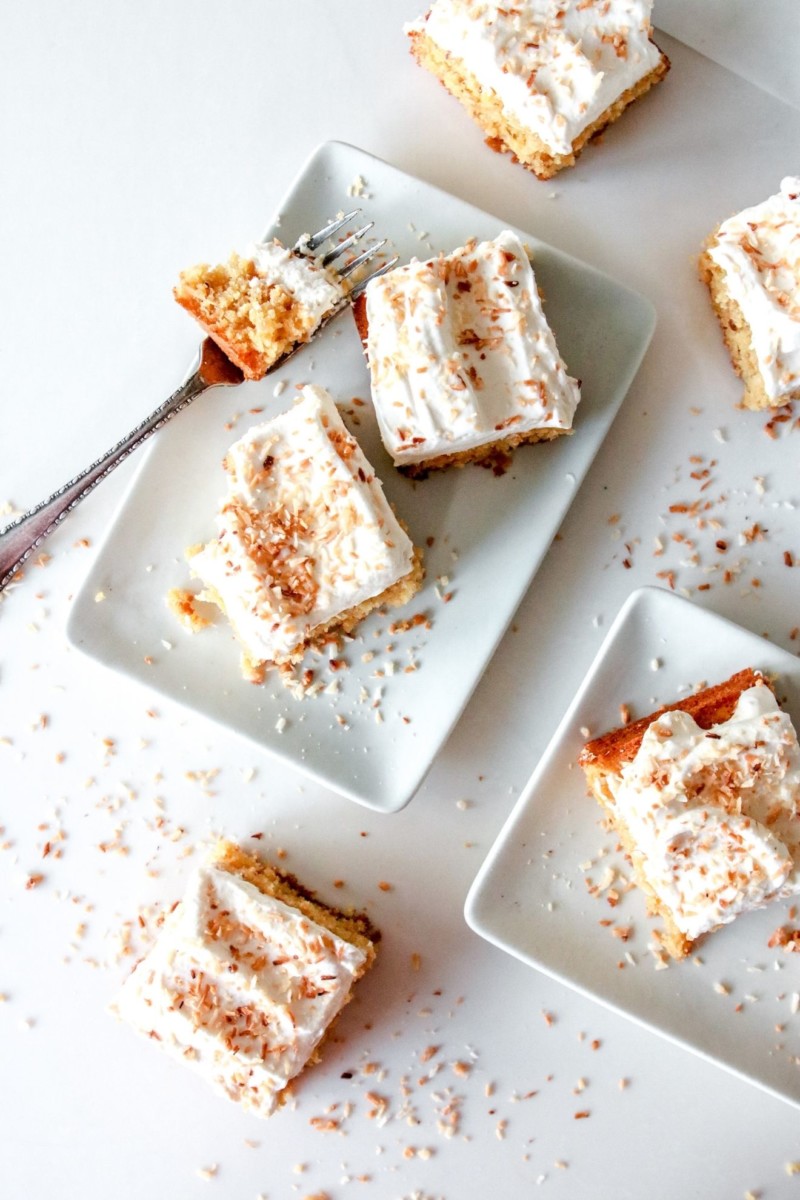 How to store this cake:
This cake is great served at room temperature on the same day. Keep leftovers in an airtight container in the fridge for about 5 days.
More delicious coconut recipes:
Recipe
Moist & Fluffy Gluten Free Coconut Cake (in 30 min!)
Gluten free coconut cake topped with whipped cream frosting is a fluffy, moist, and easy to make dessert perfect for any occasion!
Prep:
15 min
Cook:
17 min
Total:
32 min
Servings:
1

cake (12 slices)

1

x
Ingredients
Coconut Cake:
1/2

cup

unsweetened shredded coconut

8 tablespoons

unsalted butter

1/3

cup

agave nectar (honey or maple syrup also works)

3

eggs

1 teaspoon

vanilla extract

3/4

cup

oat flour

2 teaspoons

baking powder

1/2 teaspoon

salt
Whipped Cream Frosting:
1

cup

heavy cream

2 tablespoons

agave nectar

1 teaspoon

vanilla extract
Instructions
Preheat oven to 350F.
Place the coconut shreds in a pan over medium-low heat. Toast for about 5 minutes, stirring constantly until the coconut is fragrant and toasty light brown. 
Transfer the coconut shreds to a bowl and set aside.
Place the butter in a large bowl and melt it in the microwave for 30 seconds. You could also melt it slightly on the stovetop or just think ahead and make sure your butter is left out at room temperature for when you're ready to make your cake. 
Whisk together the melted butter, agave nectar, eggs, and vanilla. 
Add the oat flour, baking powder, and salt. Whisk until combined. 
Add most of the toasted coconut to the batter, reserving 1 – 2 tablespoons to sprinkle on top of the frosting. 
Fold the coconut into the batter. 
Line an 8×8 square pan with parchment paper and transfer the batter to the pan. 
Bake for 17 – 20 minutes until the top is golden brown. 
Allow the cake to cool for 5 minutes before transferring to a cooling rack and allowing it to cool completely before frosting the cake.
Once the cake is cooled completely, place the cream, agave and vanilla in a large bowl and whip on high for 2 minutes with an electric mixer.
Once the cream is fluffy and stiff peaks form, transfer to the top of the cake. 
Spread the frosting out on top of the cake in an even layer. 
Sprinkle with the remaining coconut and enjoy!
Serve immediately or place in the refrigerator and serve chilled.
Cut into 12 squares and enjoy!
Nutrition Info:
Serving Size:

1 slice

Calories:

264

Sugar:

11.5g

Sodium:

175mg

Fat:

20.2g

Saturated Fat:

13.9g

Unsaturated Fat:

0g

Trans Fat:

0g

Carbohydrates:

18.1g

Fiber:

1.9g

Protein:

3.1g

Cholesterol:

75mg