Chocolate Dipped Coconut Cookies
The other day I caught Jaryd napping. And he lied about it. Like, I caught you! You can't lie if I caught you!! I'm kind of hysterically laughing on the inside because only in parenthood do you lie about napping, right?
Ok, maybe if you are at work and your boss walks in and you look at said boss all groggy eyed and when they ask if you were napping, you'd probably lie about that.
I'm the girl that can't nap for anything though. I hate the idea of waking up from to a feeling of unaccomplishment (apparently NOT a word). I mean, unless there is nothing on my to-do list. Then, napping has ZERO guilt associated with it.
Anyway, I walked up the stairs and saw Jaryd wake up, sit up in the bed, grab this textbook and pretend to read. The interaction went something like this…
"What are you doing?" I asked.
"Oh nothing, just reading," he said as he squinted a little harder at his text.
Me: "Are you reading, or are you just pretending you're reading because you just woke up from a nap?"
Busted.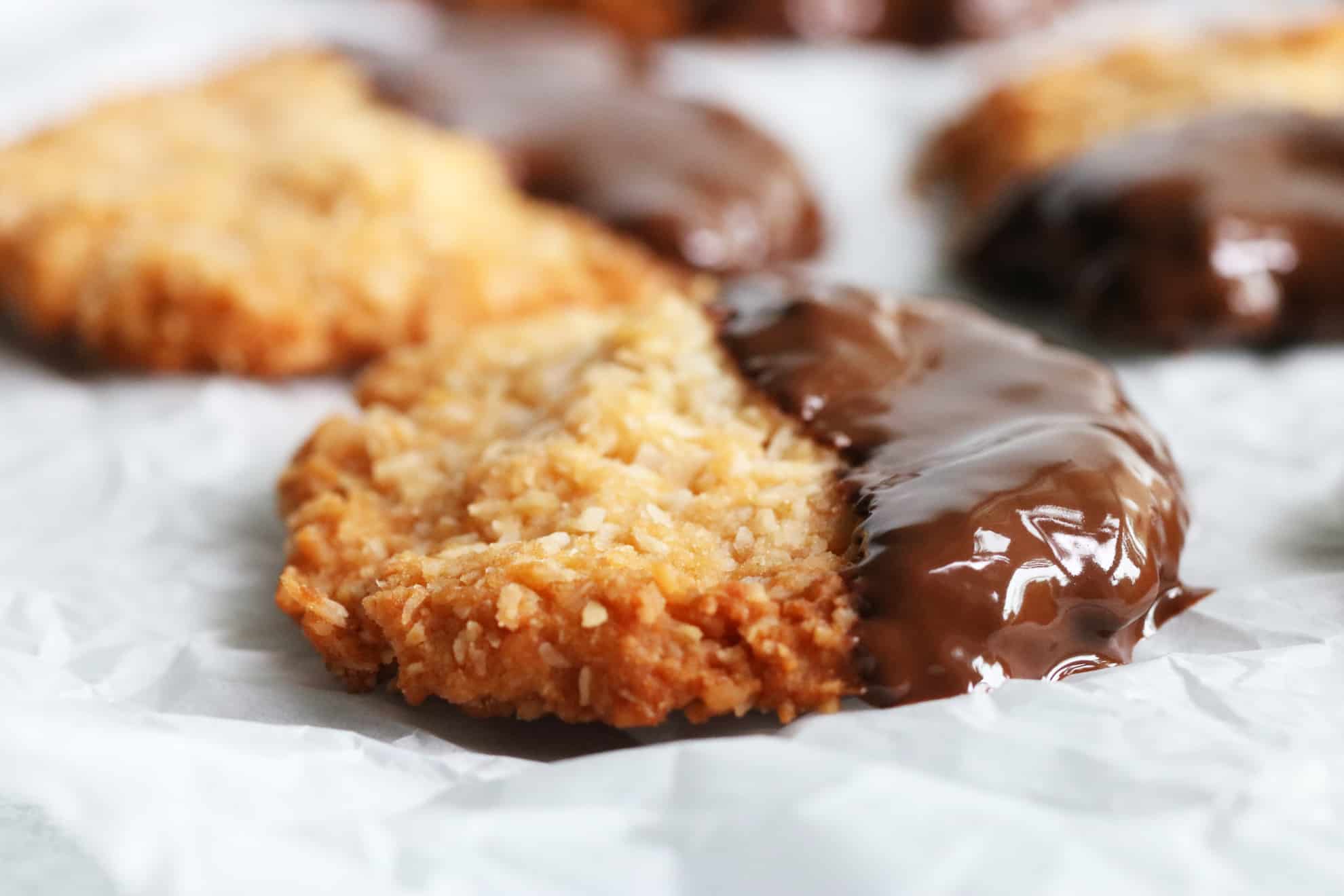 We both started hysterically laughing. Ain't no shame, napping's no crime. I mean, unless the kids are awake and jumping on me and whining and you're all upstairs napping when you could be wrangling them. Then you should feel guilty.
Ok ok ok let's make some Chocolate Dipped Coconut Cookies! I tried for so long to make these super crisp toasty coconut cookies. I used to go to this sushi buffet that had the best crunchy coconut cookies. I've been dreaming about them since I stopped going to the buffet and have tried to recreate them on numerous occasions.
These babies are pretty damn close. Jaryd ate them and asked me to put them on the blog. He was like, "You haven't put them on the blog yet? You definitely need to put these on the blog!"
Like ok ok, don't rush me!
But anyway, here's how you make them! Easy, ready?
By the way, I'm linking to some of my favorite products, if you're interested in some of the brands I use! If you do end up buying from the link, I get a minuscule percentage of the sale which is better than nothing and 100% goes into keeping this blog aliiive 🙂 So thanks for your support!!
In a medium bowl, combine the shredded coconut
, coconut flour
, and sea salt. Add the coconut oil
 and agave
, and mix everything until it's combined. Then, form little cookie discs on a lined baking sheet.
Bake for 12 minutes, then let them sit on the baking sheet and let them cool completely before you transfer them to the cooling rack. When they are cool, melt the chocolate
 in a microwave for 1.5 minutes, stirring after 1 minute.
Take each cookie and dip it into the chocolate. Place it back on the cooling rack or on parchment paper. I placed mine in the fridge for 5 minutes to expedite the chocolate hardening process 🙂
Print
Chocolate Dipped Coconut Cookies
---
Description
OMG!! If you guys want an easy and delicious cookie recipe, these Chocolate Dipped Coconut Cookies are for you!! They taste like chewy, crunchy, toasted coconut cookies and almost have a macaroon vibe! So fun and tasty!!
---
Scale
Ingredients
1 cup unsweetened shredded coconut
1/4 cup coconut flour
1/2 teaspoon sea salt
1/4 cup coconut oil, melted
1/4 cup agave nectar
2 oz. 60% dark chocolate, melted
---
Instructions
Preheat oven to 350F.
In a medium bowl, combine the coconut shreds, coconut flour, and sea salt.
Add the coconut oil and agave. Mix everything until it's combined.
Then, form little cookie discs on a lined baking sheet.
Bake for 12 minutes.
Let them sit on the baking sheet and cool completely before you transfer them to the cooling rack.
When the cookies are cool, melt the chocolate in the microwave for 1.5 minutes, stirring after 1 minute.
Take each cookie and dip it into the chocolate. Place it back on the cooling rack or on parchment paper.
I popped mine in the fridge for 5 minutes to expedite the chocolate hardening process 🙂
Enjoy!! xo