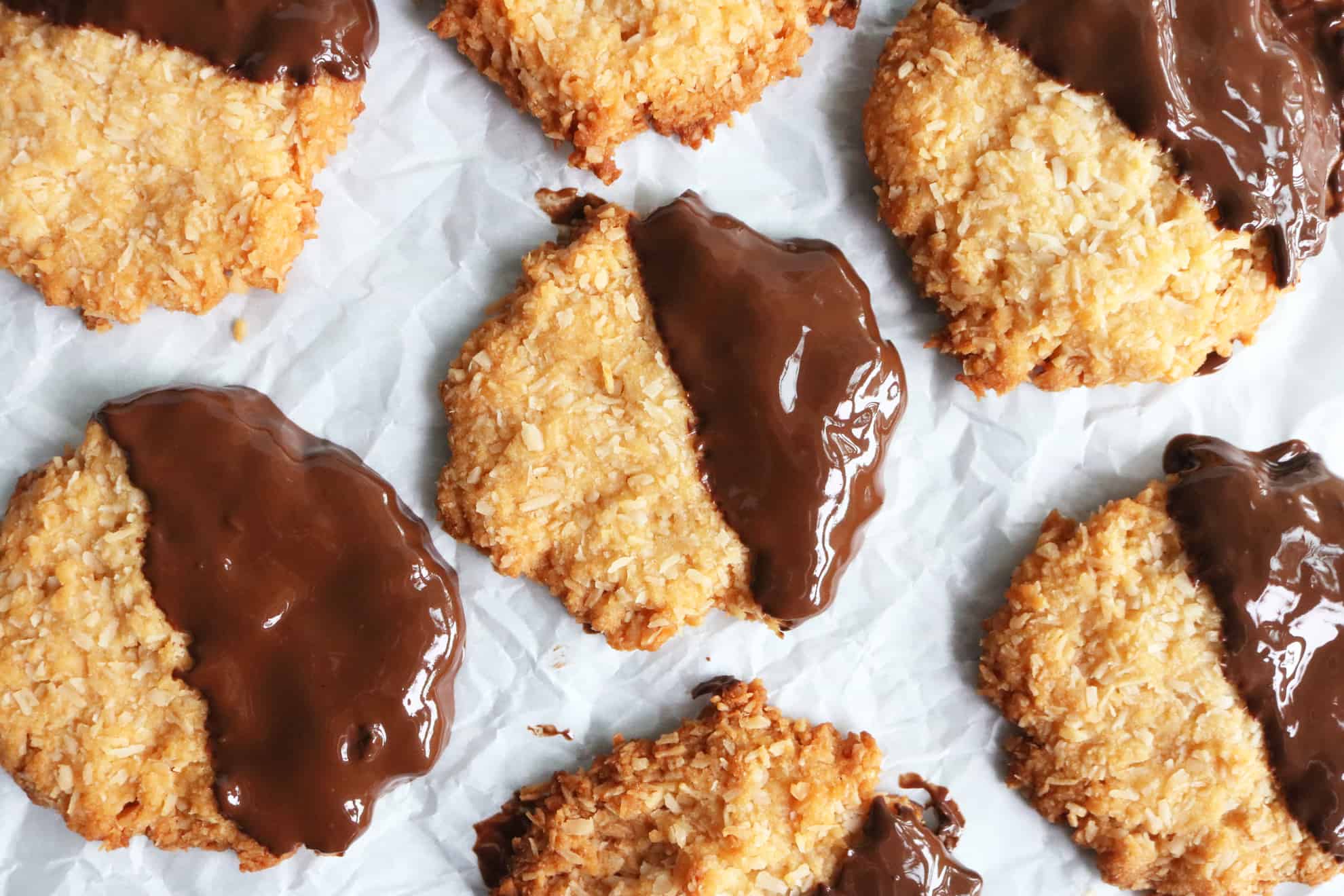 Chocolate dipped coconut cookies are amazing for two reasons. First, I love their crisp yet chewy texture and toasty coconut flavor. Mm, I'm feeling some serious Almond Joy vibes y'all. Second, I love how easy they are. Honestly, they're only six ingredients and that includes salt!
You could serve them exactly as is, but I like to take them one step further and dip them in chocolate because… chocolate is always a good idea in my opinion.
The backstory behind these cookies:
I used to go to this sushi buffet that had the best crunchy coconut cookies. I've been dreaming about them since I moved away from the buffet restaurant and have since tried to recreate them on numerous occasions.
These babies are pretty damn close. Jaryd ate them and asked me to put them on the blog. He was like, "You haven't put them on the blog yet? You definitely need to put these on the blog!"
Like ok ok, don't rush me!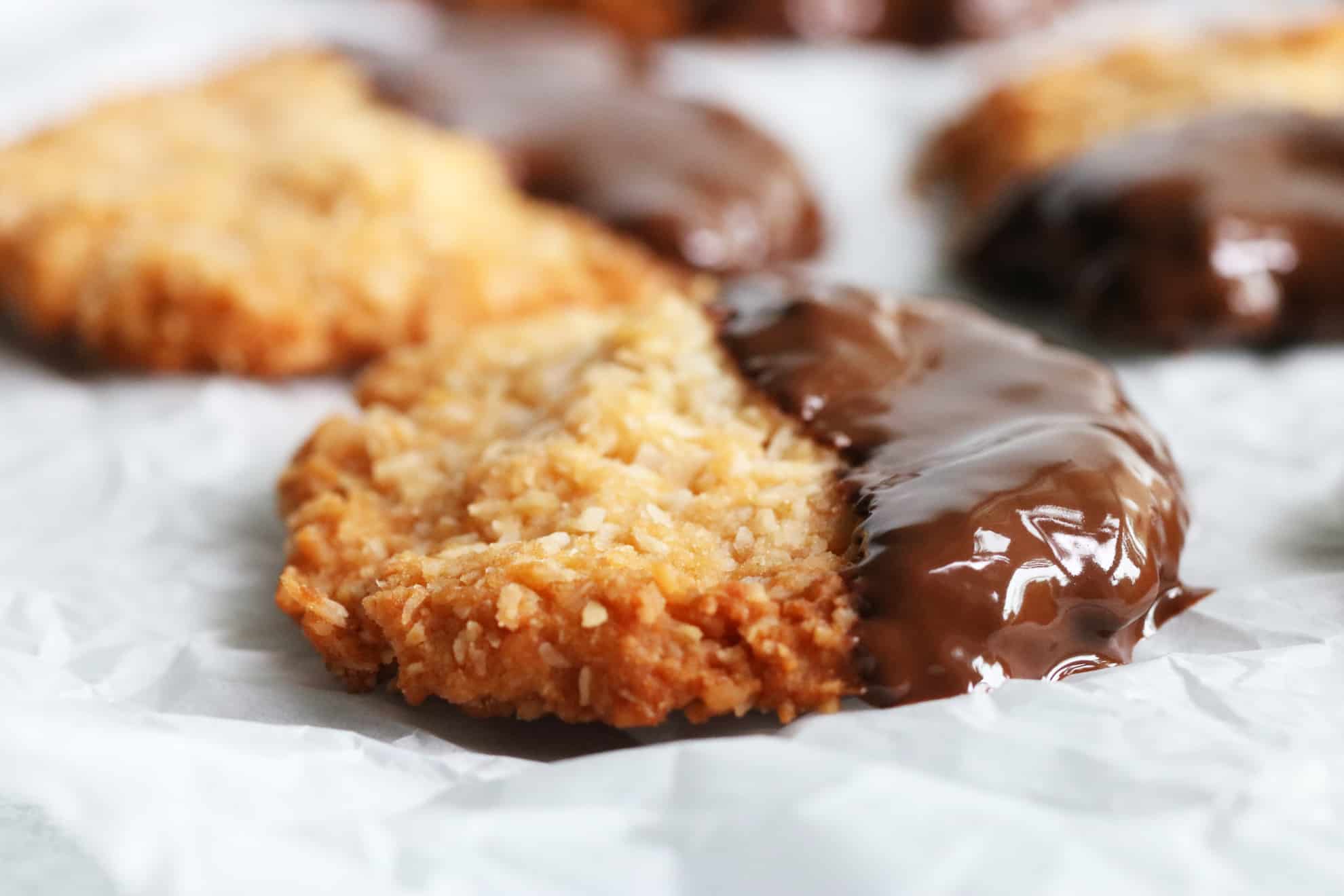 Ingredients to make coconut cookies:
unsweetened shredded coconut
coconut flour
salt
coconut oil
agave nectar
dark chocolate
How to make these coconut flour cookies:
In a medium bowl, combine the shredded coconut
, coconut flour
, and sea salt. Add the coconut oil
and agave
, and mix everything until it's combined. Then, form little cookie discs on a lined baking sheet.
Bake for 12 minutes, then let them sit on the baking sheet and let them cool completely before you transfer them to the cooling rack. When they are cool, melt the chocolate
in a microwave for 1.5 minutes, stirring after 1 minute.
Take each cookie and dip it into the chocolate. Place it back on the cooling rack or on parchment paper. I placed mine in the fridge for 5 minutes to expedite the chocolate hardening process 🙂
More cookie recipes to try:
Recipe
Chocolate Dipped Coconut Cookies
Chocolate Coconut Cookies are chewy, crunchy, toasted coconut cookies that taste like an almond joy! Gluten free made with coconut flour!
Prep:
10
Cook:
12
Total:
22
Ingredients
1 cup

unsweetened shredded coconut

1/4 cup

coconut flour

1/2 teaspoon

sea salt

1/4 cup

coconut oil, melted

1/4 cup

agave nectar (honey or maple syrup also works)

2 oz

. 60% dark chocolate, melted
Instructions
Preheat oven to 350F.
In a medium bowl, combine the coconut shreds, coconut flour, and sea salt.
Add the coconut oil and agave. Mix everything until it's combined.
Then, form little cookie discs on a lined baking sheet.
Bake for 12 minutes.
Let them sit on the baking sheet and cool completely before you transfer them to the cooling rack.
When the cookies are cool, melt the chocolate in the microwave for 1.5 minutes, stirring after 1 minute.
Take each cookie and dip it into the chocolate. Place it back on the cooling rack or on parchment paper.
I popped mine in the fridge for 5 minutes to expedite the chocolate hardening process 🙂
Nutrition Info:
Serving Size:

1 cookie

Calories:

214

Sugar:

8.4g

Sodium:

86mg

Fat:

16.7g

Saturated Fat:

14.3g

Unsaturated Fat:

0g

Trans Fat:

0g

Carbohydrates:

14.8g

Fiber:

4.9g

Protein:

2.2g

Cholesterol:

0mg
Enjoy!! xo