Air Fryer Bacon
This is the crispiest, most delicious, slightly sweet, mouthwatering strips of tasty goodness you'll ever eat.
If you want no-fuss bacon for your breakfast or brunch or to sandwich in your BLT, this is the perfect bacon recipe! The thing I love most about air fryer bacon, aside from its pure yumminess, is once you pop them in the air fryer, you really don't have to do much. If you have other things cooking up on your stovetop, you don't have to stand over your bacon as it cooks.
No hovering or tending. No flipping and no splatter. It's an easy peasy way to get the most epic bacon on the table with the absolute minimal effort.
Ingredients you'll need for this air fryer bacon
Bacon. This is why you're here, right?! I use regular cut bacon, but if you are using a more thin-cut or thick-cut you'll have to adjust the cook time accordingly.
Coconut sugar. This is totally optional but I HIGHLY recommend you sprinkle a little coconut sugar on your bacon. It adds a slight sweetness to the bacon that you just can't stop thinking about.
Ground pepper. Just a couple cracks of freshly ground pepper on the bacon slices and call it a day.
How long to cook bacon in the air fryer
This will vary depending how you like bacon: soft or crispy. Since my air fryer has two trays, I switch the trays halfway through so they cook evenly. But, if you have a basket, you will want to take a break halfway through to rotate the bacon.
Regular cut bacon.
Preheat the air fryer to 375F and cook for 8 – 10 minutes. For softer bacon, veer around the 8 minute mark and for crispier bacon, you'll want to air fry it for about 10 minutes.
Thick cut bacon.
Preheat your air fryer to 375F and cook for 10 – 12 minutes. For softer strips, veer around the 10 minute mark and for crispier bacon, you'll want to air fry it for about 12 minutes.
Can I use turkey bacon?
Absolutely! The cook time will probably be about the same.
Should I spray the air fryer and/or bacon with oil?
No need at all! The bacon will release a good amount of grease which will be plenty of oil so the bacon should stick in your air fryer basket or tray.
What if my strips of bacon don't fit?
Easy peasy! Just cut them in half.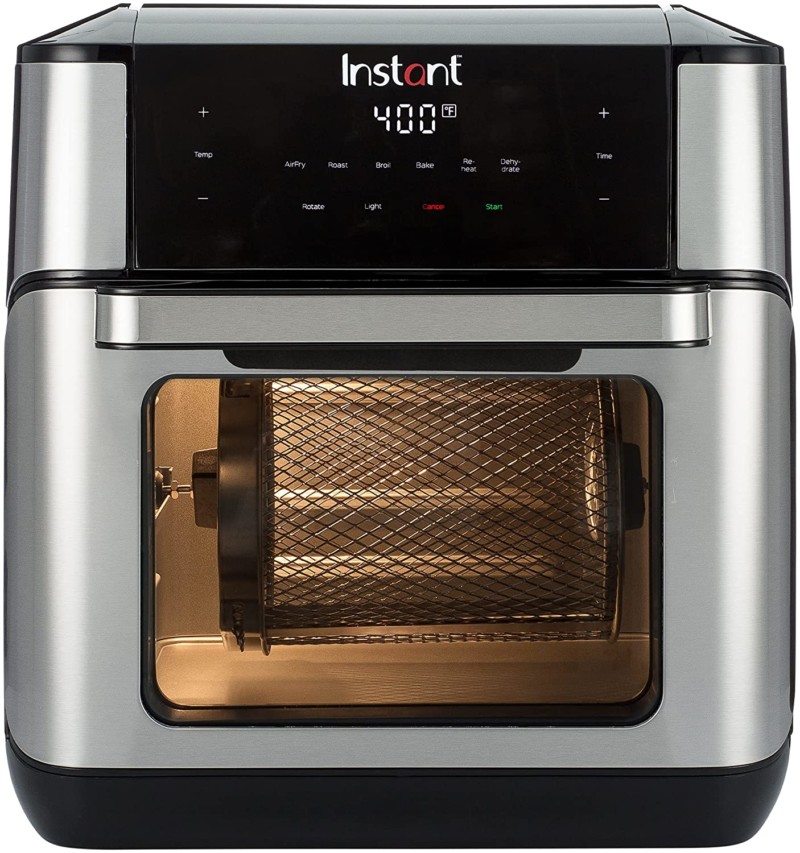 My favorite air fryer
I love the shape and two-tray set-up of this air fryer! It's made by the Instant Pot brand and is super simple to use with its touchscreen menu.
More air fryer recipes to try
Recipe
Sweet & Crispy Air Fryer Bacon
Air fryer bacon is the best way to make mouthwateringly crispy bacon! Sprinkle a little coconut sugar on top for a slightly sweet twist.
Prep:
2 min
Cook:
10 min
Total:
12 min
Ingredients
8

slices bacon

1 teaspoon

coconut sugar

1/4 teaspoon

ground pepper
Instructions
Preheat air fryer to 375F.
Lay the bacon slices out in an even layer across your air fryer trays or basket. If the bacon strips don't fit, feel free to cut the bacon in half to arrange them in a single layer. Depending how much bacon you're cooking, you may need to work in batches.
Sprinkle the tops of the bacon with coconut sugar and pepper.
Air fry the bacon for 8 – 10 minutes, 8 minutes for softer slices and 10 minutes for crispy bacon. Switch the air fryer trays or flip the bacon halfway through cooking to make sure they cook evenly.
Once the air frying time is up, use tongs to transfer the bacon to a plate lined with paper towels and enjoy!
Nutrition Info:
Serving Size:

1 strip of bacon

Calories:

20

Sugar:

0.5g

Sodium:

28mg

Fat:

1.7g

Saturated Fat:

0.6g

Unsaturated Fat:

0g

Trans Fat:

0g

Carbohydrates:

0.6g

Fiber:

0g

Protein:

0.6g

Cholesterol:

4mg