I'm not going to lie, jicama fries have been my favorite snack lately. Even my kids used phrases like "great" and "the best" and "I like that they taste like French Fries."
Given their usual hesitancy with vegetables, their jicama praise was music to my ears! My kids? Enjoying a vegetable? Ah the glory!!
What I love about this recipe is you can get that same French Fry crisp without a deep fryer. You can enjoy your favorite comfort food but load it with extra vitamins and nutrients!
If you're loving the look of these jicama fries, try these healthy side dish recipes, crispy air fryer chicken wings, the best air fryer tofu, and air fryer salmon.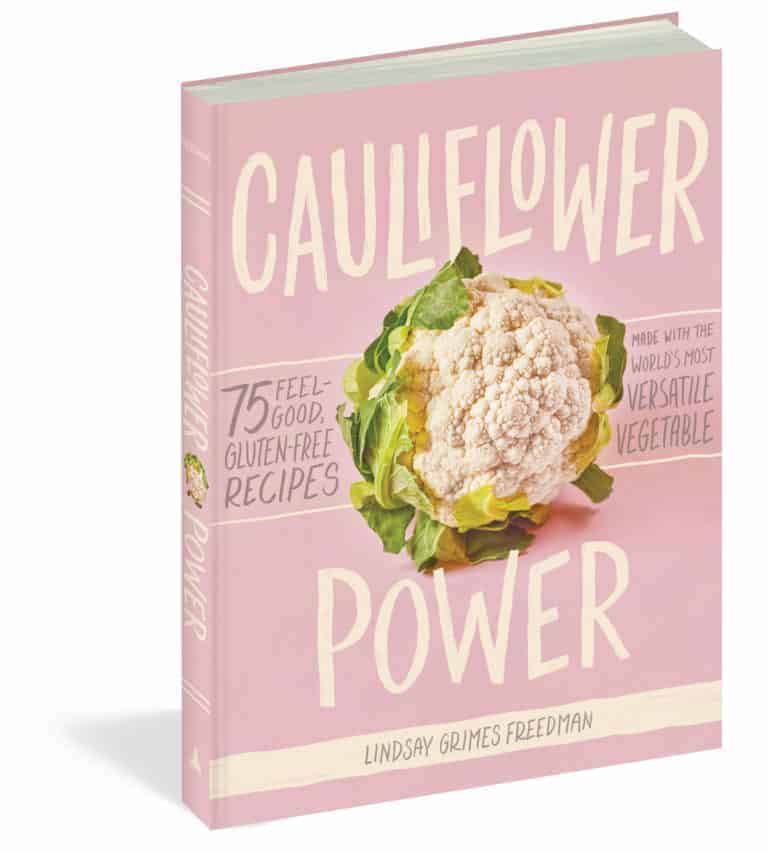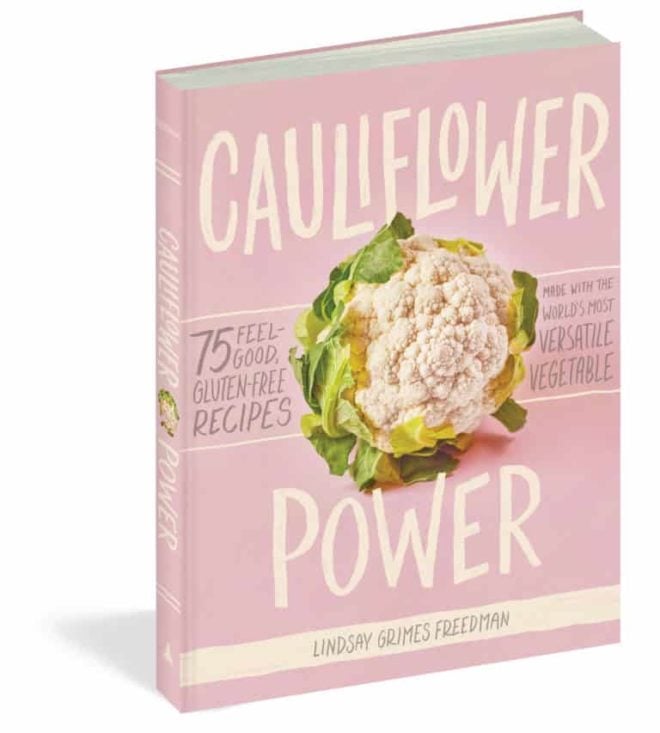 Cauliflower Power Cookbook
Grab a copy of my cookbook! 75 feel-good gluten free recipes all using cauliflower i fun and creative ways! It's an editor's pick on amazon and only $11.50 right now!
What is jicama?
Jicama is similar to a potato but with a slightly sweet taste. It's a root vegetable originally from Mexico and is naturally low in sugar and low carb.
Is jicama healthy?
Jicama is a great source of fiber, low in fat, and a good source of vitamin C. It's a more nutrient-dense alternative to a traditional potato.
How to cut jicama:
Peel the jicama with a vegetable peeler. Then, cut it into rounds. From there, you can cut the jicama into spears and then cut each spear into a smaller matchstick fry.
I found thin matchstick cut to be the best, crispy fry. But, if you like a thicker cut fry, go for it!
What does jicama taste like?
Not identical to french fries, but close! They have a mellow, neutral flavor similar to potatoes. But, jicama is a but sweeter and crunchier than a traditional French Fry. The crisp and satisfying texture is perfect to sink your teeth into!
Ingredients for Jicama Fries:
Jicama. The star of the show! You can buy pre-cut jicama in the salad section at the grocery store, so keep your eye out for it!
Oil. I used avocado oil, but olive oil or whatever your favorite cooking oil should work!
Paprika. Preferably smoked paprika.
Garlic Powder. For some oomph.
Salt. Because all fries need some salt.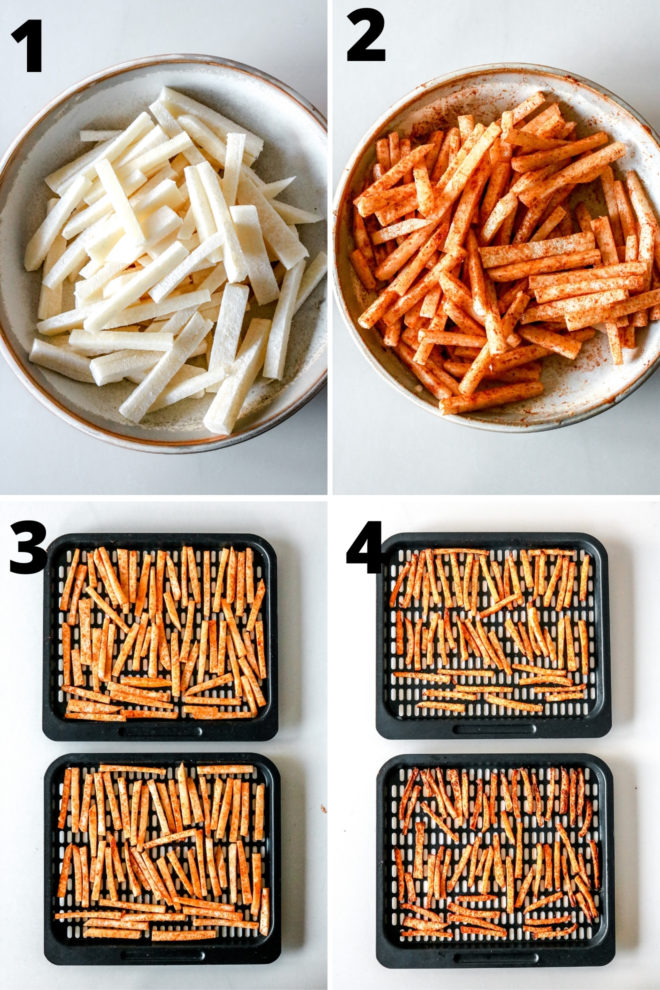 How to cook jicama fries in the air fryer:
Boil. The key achieving a similar texture to French fries is to boil the first fries. If you go right to the air fryer, the fries will retain a crunchy texture that is still delish, just not a dead ringer for french fries.
Season. After you drain the boiled jicama fries, toss them in oil and spice. I used a mix of smoked paprika, garlic powder, and salt. But, you can really customize the spice, giving it an extra kick or customize it however you like!
Fry. Place them in an even layer on your air fryer trays and fry for 20 minutes, switching the trays halfway through so the bottom one is on the top and the top one is on the bottom. If your air fryer has a basket, you may need to work in batches.
How to bake jicama fries in the oven:
You'll follow the same instructions as you would if you were making the fries in the air fryer, but instead of arranging the fries on the air fryer trays, place the fries on a baking sheet lined with parchment paper in a single layer.
Roast at 400F for 20 – 30 minutes, flipping or giving the pan a shake halfway through baking until they are golden and crispy.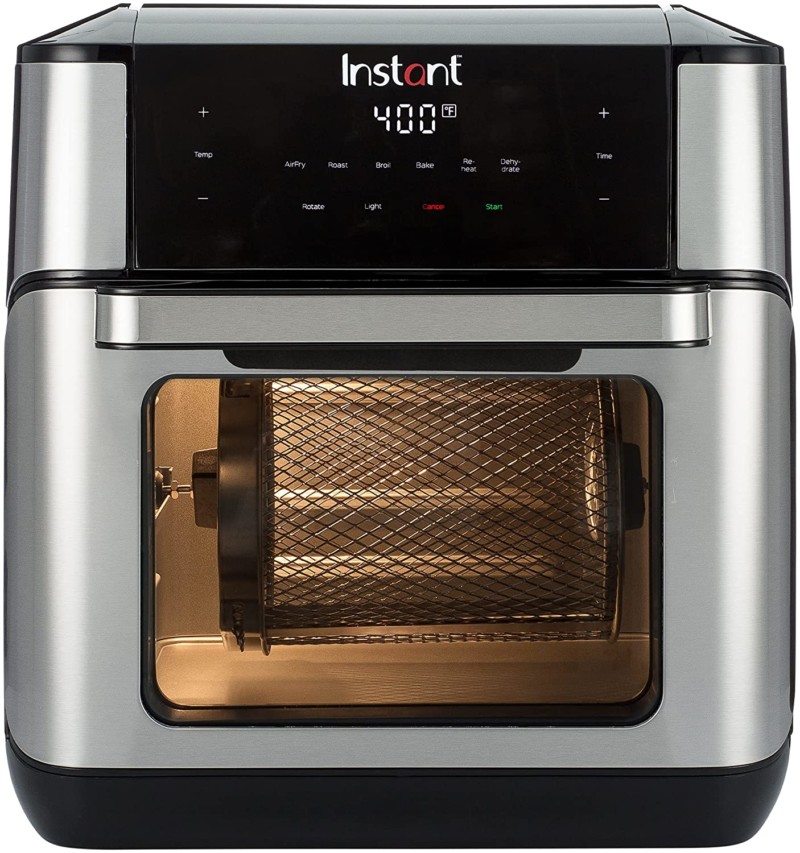 My Favorite Air Fryer
I love the shape and two-tray set-up of this air fryer! It's made by the brand as your Instant Pot and super simple to use with its touchscreen menu.
More low carb snacks to try:
Recipe
Super Crispy Spiced Jicama Fries (Air Fryer or Oven)
These healthy, keto-friendly jicama fries are the perfect side dish or snack. Made using an air fryer or baked in the oven, they're extra crispy and so satisfying.
Prep:
10 min
Cook:
25 min
Total:
35 min
Ingredients
9

oz

. jicama, cut in spears

2 tablespoons

avocado oil

1 teaspoon

smoked paprika

1/2 teaspoon

garlic powder

1/2 teaspoon

salt
ketchup, for serving
Instructions
Preheat your air fryer or oven to 400F. 
Cut the jicama spears into a smaller matchstick thickness. 
Bring a small pot of water to a boil and boil the fries for 10 minutes. 
Drain the water from the jicama fries.
Place them in a bowl with the avocado oil, paprika, garlic powder, and salt. 
For the air fryer: Arrange in your air fryer basket or tray in an even layer. Make sure there is space between each fry and they are not bunched on top of each other. You may need to work in batches. 
Air fry for 15 minutes, checking in halfway through to shake the basket or swap the position of the shelves. 
For the oven: Arrange in a single layer on a baking sheet lined with parchment paper and roast for 20 – 30 minutes until crispy on the outside. 
Transfer to a plate and serve with ketchup.
Nutrition Info:
Serving Size:

1/2 the fries

Calories:

47

Sugar:

1.4g

Sodium:

585mg

Fat:

2g

Saturated Fat:

0.4g

Unsaturated Fat:

0g

Trans Fat:

0g

Carbohydrates:

7.2g

Fiber:

4g

Protein:

0.9g

Cholesterol:

0mg