Indulge in a rich and creamy chocolate glaze that is not only dairy-free and vegan but also incredibly versatile on so many desserts.
This easy-to-make recipe uses refined coconut oil, cocoa powder, and agave nectar to create a glossy and smooth glaze that is sure to elevate the flavor and appearance of your baked goods.
Whether you're looking for a dairy-free alternative or simply want to add a touch of sweetness to your favorite dessert, this chocolate glaze recipe is the perfect topper.
If you love chocolate recipes check out my Ultimate List of Chocolate Desserts: 30+ Ideas! You'll love find everything from these 15-Min Chocolate Glazed Cake Donuts using Almond Flour to these 20-Min Fudgey Tahini Brownies with Almond Flour!
Why you'll love this recipe
It's Quick & Easy! This chocolate glaze recipe is easy, requiring only a few simple ingredients and can be made in just a few minutes. This recipe doesn't require any special skills or equipment, making it accessible for bakers of all levels.
It's versatile! The versatility of this chocolate glaze is another reason why it is so popular. It can be used in a variety of ways to enhance the flavor and appearance of different desserts. It can be drizzled over cakes, cupcakes, brownies, or used as a dip for fruit, cookies, or pretzels.
The texture! The smooth texture of this chocolate glaze is another reason why people love it. The use of refined coconut oil and agave nectar creates a glossy, pourable glaze that has a creamy, smooth consistency, making it easy to drizzle and spread over baked goods.
The rich flavor! The addition of cocoa powder gives the glaze a rich, chocolate flavor that is balanced by the sweetness of the agave nectar.
Ingredients for Chocolate Glaze
Refined Coconut Oil: Refined coconut oil has a neutral flavor, making it ideal for use in this chocolate glaze recipe, where the focus is on the chocolate flavor.
Agave Nectar: Agave nectar has a low glycemic index, meaning it doesn't cause a rapid spike in blood sugar levels. This makes it a good choice for those who are looking for a healthier alternative to traditional sweeteners. Additionally, it is sweeter than sugar, so you can use less of it in your recipe!
Cocoa Powder: Cocoa powder is an essential ingredient in this chocolate glaze recipe, giving it its rich, chocolatey flavor. It is a natural source of antioxidants and using cocoa powder instead of chocolate provides a pure chocolate flavor without added sugar, fat, or dairy, making it a good choice for those with dietary restrictions.
How to Make this Chocolate Glaze
Step 1: Gather the refined coconut oil, agave nectar, and cocoa powder. Melt the coconut oil on the stovetop or in the microwave. Place the ingredients in a medium mixing bowl.
Step 2: Whisk Vigorously. Use a whisk to mix the ingredients together. This will ensure that all the ingredients are thoroughly combined and that the glaze is smooth and creamy. Whisk until the mixture reaches the desired consistency, which should be thick and spreadable.
Step 3: Reheat as Needed. If the glaze becomes too thick, simply microwave it for 20 seconds or heat it on the stovetop. This will help to thin it out and give it a more drizzly consistency.
Step 4: Drizzle or Dip. This glaze is great for topping cakes, cupcakes, brownies, or any other baked goods. You can also use it as a dip for fresh fruit, cookies, or pretzels.
Step 5: Chill in the fridge. If you prefer a thicker, firmer glaze, chill the glaze in the fridge for about 15 minutes after you spread it or dip your dessert. This will help the glaze to set and become a hardened shell.
Recipe success tips
Whisk Thoroughly: It is important to thoroughly whisk the melted coconut oil, cocoa powder, and agave nectar together until the mixture is smooth and homogeneous. This will ensure a glossy, smooth, and evenly textured glaze.
Reheat as needed: as coconut oil gets cold it solidifies. Because the base of this glaze is made of coconut oil, the glaze will also harden as it gets cold. For a more drizzly, spreadable glaze, reheat it in the microwave or stovetop as needed.
Taste as you go! Try the glaze and make sure it's sweet and chocolatey to your tasting. If you want to up the flavor, add a tablespoon of agave and/or cocoa to increase the flavor you want.
Flavor Variations
By adding different flavors to your chocolate glaze, you can create endless variations to suit your tastebuds. Experiment with different ingredients and find your favorite flavor combination!
Vanilla: Add a touch of vanilla extract to the glaze for a subtle, sweet flavor.
Mint: Mix in a few drops of peppermint extract for a fresh, minty twist.
Espresso: Add a shot of espresso or a teaspoon of instant coffee powder to give it a mocha flavor.
Peanut Butter: Mix in some creamy peanut butter for a nutty, sweet flavor.
Coconut: Add a teaspoon of coconut extract or sprinkle some toasted coconut flakes on top of the glaze for a coconutty twist.
Orange: Add a teaspoon of orange extract or zest to the glaze for a citrusy flavor.
Raspberry: Add a few teaspoons of raspberry puree or a raspberry liqueur to the glaze for a fruity flavor.
Salted Caramel: Add a pinch of salt to the glaze and drizzle with caramel sauce for a sweet and salty flavor.
How to Store this Glaze
Store in the fridge in an air tight container for about two weeks. Reheat on the stovetop or microwave, whisking until warmed through and reaching the desired consistency.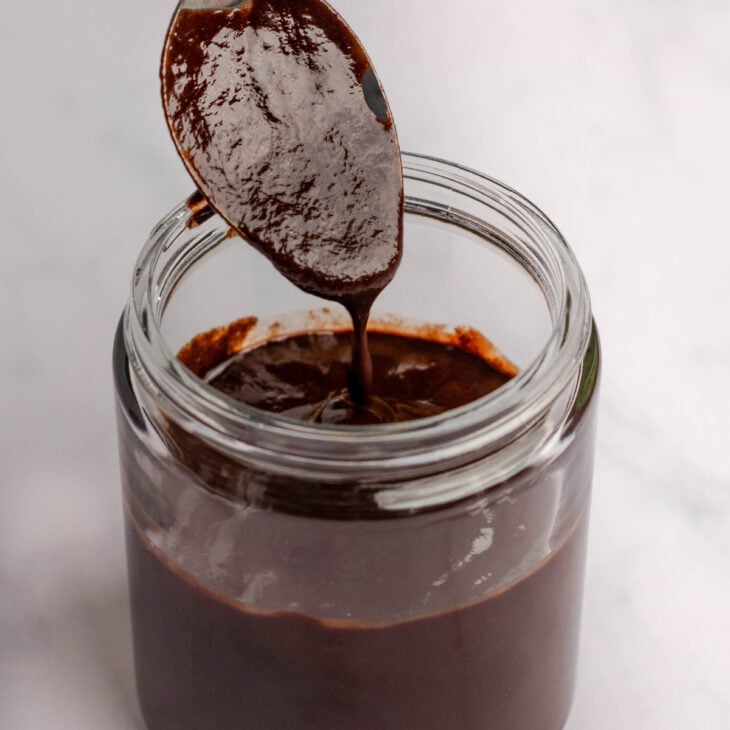 Recipe
Seductively Silky Chocolate Glaze in 5 Minutes
This easy chocolate glaze is perfect for drizzling on donuts, cookies, cakes, brownies and more! It takes only 5 minutes to whip up.
Ingredients
1/3

cup

refined coconut oil, melted

1/2

cup

agave nectar, honey or maple syrup

1/2

cup

cocoa powder
Instructions
Gather and measure your ingredients. Prep the coconut oil by melting it first on the stovetop or in the microwave.

Add the melted coconut oil, agave nectar, and cocoa to a medium bowl.

Whisk until it reaches desired consistency. If the

glaze

 gets too thick, microwave it for 20 seconds in the microwave to make it more thin and 

glaze

-y.

Drizzle the glaze or dip your treat into the glaze.

If you want to harden the glaze, chill in the fridge for about 15 minutes.
Nutrition Info:
Serving Size:

2 tablespoons

Calories:

80

Sugar:

5.9g

Sodium:

1mg

Fat:

5.6g

Saturated Fat:

5.1g

Unsaturated Fat:

0g

Trans Fat:

0g

Carbohydrates:

8.1g

Fiber:

0.8g

Protein:

0.5g

Cholesterol:

0mg