Homemade Nut & Seed Milk
Homemade nut & seed milk is my obsession! I didn't realize it until I started this roundup post and realized HOW many recipes I have to make your own dairy free milk. Turns out, quite a lot 🙂
Store-bought nut milk is so convenient, but it's so fun to make your own at home! Not only can you customize the nuts or seeds for the base of your milk, but you can add sweetener (or not) and play around with different flavors!
Whether you're using this dairy free milk for cereal, pouring a glass to drink along with your dessert, or just adding a splash to your coffee in the morning, you'll love these recipes!
1. Vanilla Almond Milk
---
2. Almond Cashew Chocolate Milk
---
3. Chocolate Flax Seed Milk
---
4. Cashew Milk
---
5. Pumpkin Seed Milk
---
6. Peanut Butter Almond Milk
---
7. Pecan Milk
---
8. Vanilla Oat Milk
---
9. Chocolate Oat Milk
---
10. Peanut Butter Hemp Milk
---
11. Cashew Mocha Latte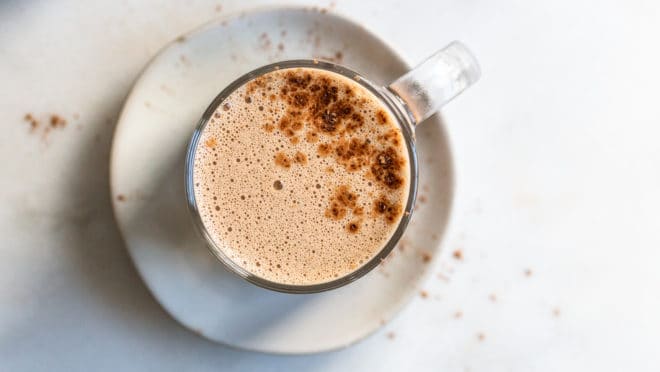 ---
12. Tigernut Milk (recipe below!)
Print
Homemade Nut & Seed Milks, including Tigernut Milk
Author: Lindsay Grimes Freedman
Prep Time: 12+ hours
Cook Time: 10 min
Total Time: 12+ hours 10 min
Yield: 4 cups 1x
Category: drinks
Method: blender
Cuisine: milk
Diet: Vegan
---
Description
It's so simple to make creamy homemade nut or seed milk in 10 minutes! You can customize the flavor and sweetness to your liking!
---
Scale
Ingredients
1 cup tigernuts
4 cups water (plus more for soaking)
1 teaspoon vanilla extract
1 tablespoon agave nectar (optional – honey, maple syrup or a pitted date also works)
---
Instructions
Place the tigernuts in a glass container and fill it with water until the tigernuts are covered. Allow them to soak overnight for 12 hours or so. 
Drain the tigernuts and place them in a blender along with the 4 cups water, vanilla, and agave nectar. 
Blend for a couple minutes until the tigernuts are completely blended and incorporated into the water. 
Place a nut milk bag inside a bowl and pour the tigernut milk through the nut milk bag to remove the pulp. Tigernut milk created A LOT of pulp!
Discard the pulp and transfer the tigernut milk to an airtight pitcher or jar and chill in the fridge. 
---
---
Nutrition
Serving Size: 1 cup
Calories: 63
Sugar: 5.6g
Sodium: 11mg
Fat: 2g
Saturated Fat: 0.4g
Unsaturated Fat: 0g
Trans Fat: 0g
Carbohydrates: 10.9g
Fiber: 2.5g
Protein: 0.5g
Cholesterol: 0mg
Keywords: tigernut milk, tigernut milk recipe, how to make tigernut milk, homemade tigernut milk, horchata de chufa,