Back to school is around the corner! We have one long weekend… one VERY LONG weekend… and then we have a first grader! I'm not always the best with my lunchbox game. I get into routines that I know the kids will like, so I enjoy making these kid meal posts because it forces me to get a bit creative with the kids meals.
I'd love your suggestions! Let me know in the comments below: what are some favorite lunchbox ideas that you pack for your kids? Check out my post HERE for all the Lunchbox essentials you can buy off amazon that will make packing lunches THAT much easier. If you want these plastic containers I'm using in this post, check them out on amazon HERE!!
ONE: Banana Sushi! This is a favorite that my kids always ask for! Spread peanut butter across your favorite wrap or tortilla. Roll a banana in it and cut into slices. I also packed a strawberry banana smoothie, cut up strawberries, and some almond flour cheddar crackers from Simple Mills.
TWO: Roll up some cheese and honey ham with a wrap, cut it up, and skewer little kabobs! My kids love it. They don't love condiments, but you could totally add some mustard or mayo if you wish! Also packed a yogurt tube, some raspberries with 1 random strawberry, and some peanut butter filled pretzels that my kids are OBSESSED with.
THREE: Cracker sandwiches with cheese and pepperoni, a peeled clementine, string cheese, dried mango, and some carrots. This lunch unintentionally had an orangey/yellow theme and the only thing that came back were three carrots.
FOUR: One of my sons loves mini bagels with cream cheese and jelly. It's so quick and easy to pack for him, so I always end up sending it along in his lunch at least once a week. I also packed a smoothie, some mini rice cakes, and grapes.
FIVE: Peanut butter and jelly star sandwich, anyone? I'm telling you, sandwich cutters totally transformed my lunchbox game. My one son suddenly likes sandwiches now that they come in fun shapes and I'm pretty happy about it. I also packed a z-bar (their FAVEEE), more strawberries, and some dried banana chips.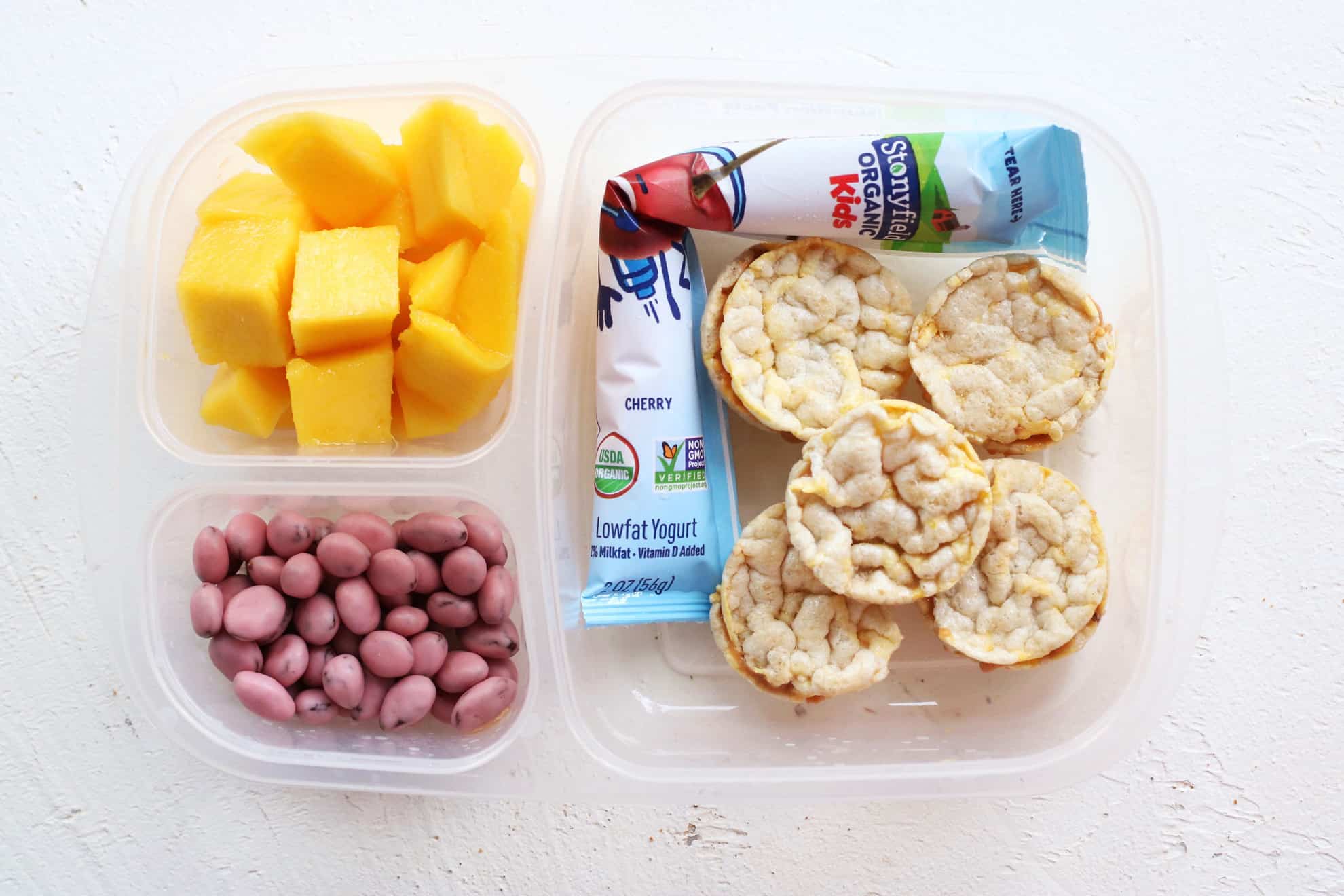 SIX: Mini peanut butter rice cake sandwiches that they were a little unsure of at first but ate every single one and told me they were thoroughly enjoyed. I also packed a yogurt tube, fresh mango cubes, and yogurt covered raisins. Guys, strawberry yogurt covered raisins are kinda like crack for kids.
Hope these lunchboxes give you some inspo as we come upon yet another school year. I always start off the year with high hopes and then ride this rollercoaster of lunchbox ambition and creativity followed by dips of lame lunchboxes. Good luck out there!! xo
This post contains an affiliate link which means if you purchase the containers I linked to, I'll receive a small portion of the sale. Thanks so much for supporting The Toasted Pine Nut!!