Is there anything better than a warm, gooey, undercooked brownie? No, I mean. I don't think there is. Maybe warm gooey chocolate chip cookies, but… okay let's call it a tie. I have a fudgey no bake chocolate brownie recipe that I'm obsessed with, but today I need that warm and gooey stuff, you know?
I'll probably need it tomorrow too. And every day thereafter for the rest of my life. I mean, just playing the odds.
But let's hold up for a second and can I tell you that yesterday I successfully curled my hair with a curling iron. I definitely think I need a new curling iron, but for the first time it added volume and umph to my hair as opposed to normally when I attempt to curl it ends with a weird wave.
But yesterday I had ringlets. Obviously I messed them up for beachy curls, but curls, nonetheless. It felt like all those YouTube videos of 13 years olds teaching me to curl my hair were finally paying off. Do you guys have a specific curling iron you love? I'm not picky, but one that is inexpensive and user friendly would be much appreciated!!
Ok but back to brownies.
You guys, the goo factor is knock your socks off. I mean, I don't want to air my dirty laundry but there may have been a martial dispute because there were TWO brownies left. TWO. And someone ate BOTH OF THEM. And that someone most certainly was NOT ME. #NOTOVERIT
Lately I've had a few recipes cross my path that call for a bunch of egg whites and not yolks liiike this gluten free pizza crust! I vowed to make a partner recipe to use up the yolks. Who doesn't love pizza and brownies?! So if you're making this recipe and feel bad about discarding the whites (never discard!!), save them and make some pizza crust, and vice versa!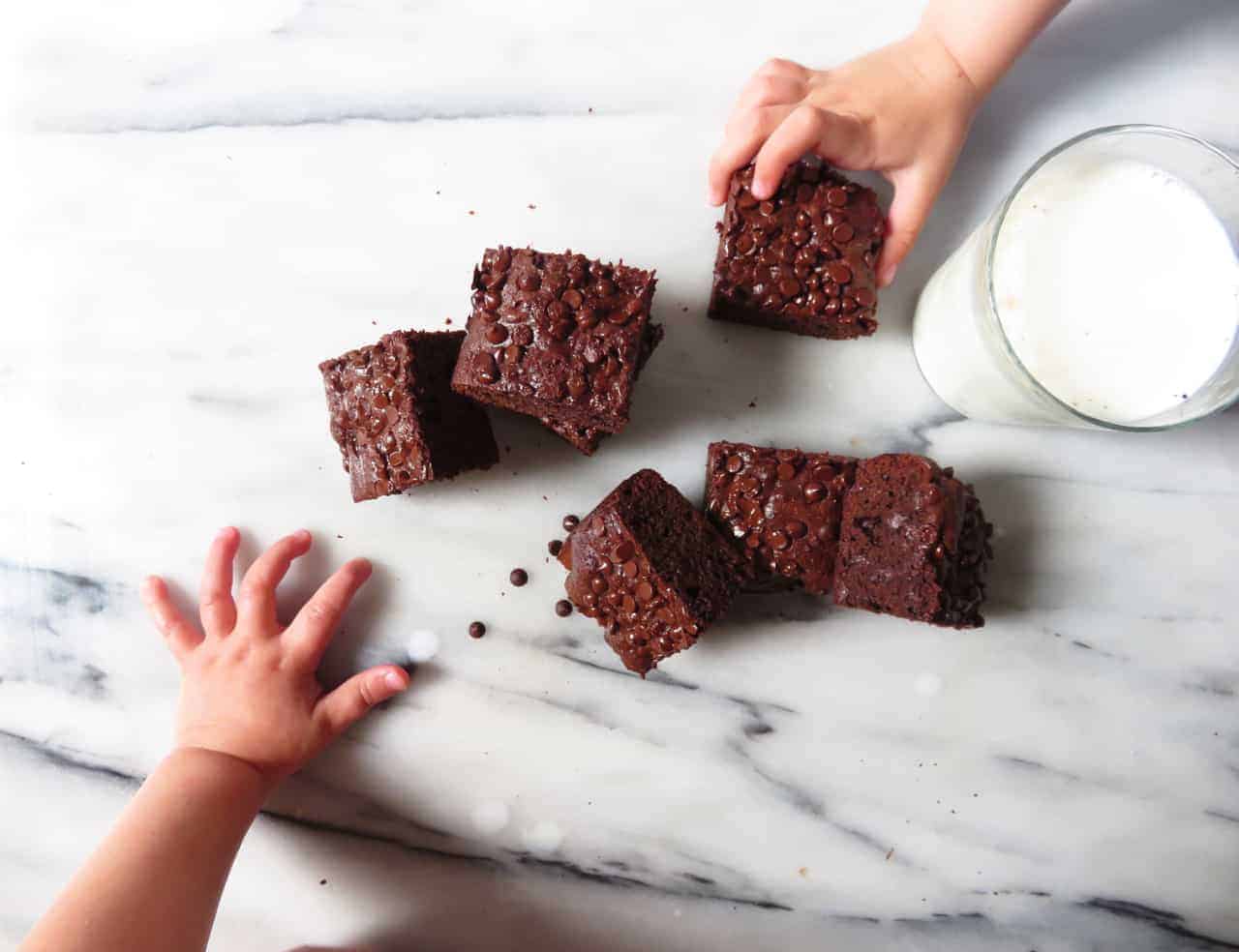 Also super popular with kid one and kid two 🙂
You know all my recipes are low carb, but in case you were wondering, these Perfectly Gooey Brownies are perfectly paleo and perfectly gluten free, too. I find most my recipes are paleo and gluten free, so if that's your thing, you're in the right place! It just gets kinda ridiculous listing alll the things these brownies are and are not.
p.s. they're also dairy free 🙂
So let's get started. These are dangerously easy, you guys!!
First, whisk together the egg yolks, agave, and coconut oil.
Then, add the almond flour
, baking powder (you can find a gluten free one like this one
), sea salt, and cocoa.
 Whisk everything together until it's combined.
Finally, fold in the chocolate chips. I used minis, but chunks would also be amazing.
Line a bread pan with parchment paper and pour the batter in. This is probably my favorite kitchen trick ever. I also noticed during this recipe process that my bread pans are absolutely awful and I need new ones. Excuse me a minute while I pause typing this post and go buy some. kthx.
Smooth out the top of the batter in the pan, making sure it's evenly spread.
Finally, sprinkle additional chocolate chips on the top. Because what's life without some extra chocolate chips.
Bake for 20 minutes or until the top is no longer moist.
Remove the brownies from the pan by pulling the parchment paper. Wait 5-10 minutes before cutting into them!
Recipe
Perfectly Gooey Brownies
The BEST low carb, gluten free, and dairy free brownies you ever need! They're so decadent, chocolatey, and perfectly gooey!!
Prep:
7 mins
Cook:
20 mins
Total:
27 mins
Ingredients
6

egg yolks

1/3 cup

agave nectar

1/3 cup

coconut oil, melted

1 cup

blanched almond flour

1 teaspoon

baking powder

1/4 teaspoon

sea salt

1/4 cup

unsweetened cocoa powder

1/2 cup

60% cacao dark chocolate chips + additional for sprinkling
Instructions
Preheat oven to 350F.
Whisk together the egg yolks, agave, and melted coconut oil.
Then, add the almond flour, baking powder, sea salt, and cocoa.
Whisk everything together until it's combined.
Finally, fold in the chocolate chips. I used minis, but chunks would also be amazing.
Line a bread pan with parchment paper and pour the batter in.
Smooth out the top of the batter in the pan, making sure it's evenly spread.
Finally, sprinkle additional chocolate chips on the top.
Bake for 20 minutes or until the top is no longer moist.
Remove the brownies from the pan by pulling the parchment paper.
Wait 5-10 minutes before cutting into them!
If you can wait until they're room temp before cutting into them, they'll be way less messy and stay more in brownie form while maintaining their gooiness 🙂
Nutrition Info:
Calories:

2471

Sugar:

68g

Sodium:

674mg

Fat:

186g

Saturated Fat:

105g

Unsaturated Fat:

69g

Carbohydrates:

185g

Fiber:

29g

Protein:

38g

Cholesterol:

1114mg
Enjoy!! xo