Banana recipes are some of my favorite recipes. I mean, who doesn't have spotty bananas sitting somewhere on their counter? Today I rounded up some of my favorite bananas recipes you have to try!
Table of Contents
I love a good banana bread. That moist, freshly baked, loaded with melty chocolate loaf has a cozy, comforting vibe that just warms your heart.
Whether you're making a sweet banana bread or want to fancy it up with some banana cake, maybe you want a refreshing smoothie or a sweet little snack, you'll find a recipe here for all your banana baking needs!
This is the place for all things bananas! I'll add to this post as more banana recipes are added to the site to create an epic banana roundup. It truly is… B-A-N-A-N-A-S! I hope you find a new favorite recipe!
Banana Breads & Muffins
1. Coconut Almond Banana Bread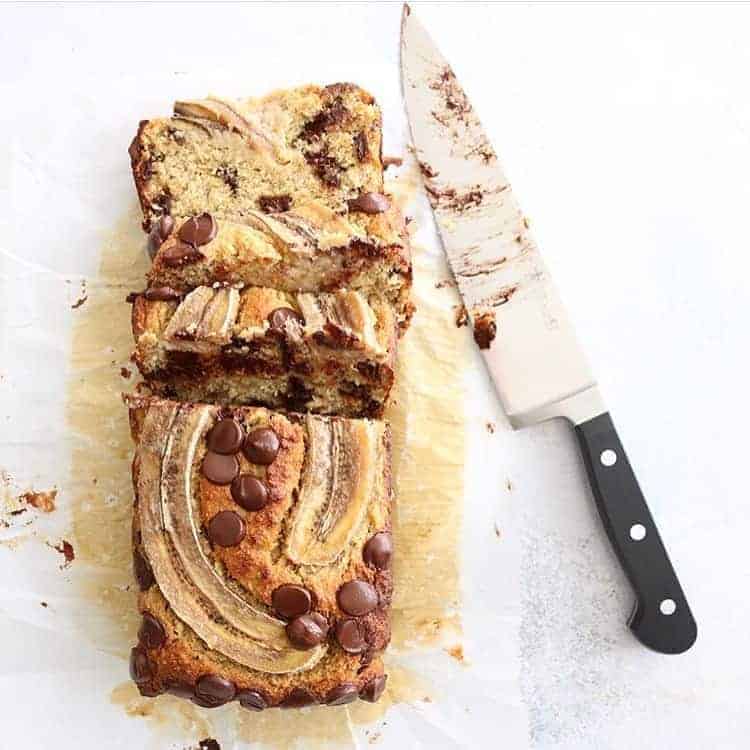 This Coconut Almond Banana Bread is the best low carb + gluten free banana bread you'll ever try! Who doesn't love a slice of this traditional treat drizzled with some extra nut butter?!
2. Tahini Banana Bread Skillet
Tahini Banana Bread Skillet is light and fluffy and naturally gluten free. The perfect mellow flavored tahini bread to make in a pinch!
3. Oat Flour Banana Bread
Oat flour banana bread is light, moist, and perfectly fluffy! Add chocolate chips or walnuts to add some more texture to this banana bread!
4. Double Chocolate Banana Bread
The best double chocolate banana bread recipe you'll ever need! Made with almond flour, it's gluten free, dairy free, and paleo! Grab the milk and enjoy the chocolatey goodness!!
5. Chocolate Chip Tahini Banana Bread
Tahini Banana Bread is loaded with chocolate chips and sesame flavor! It's naturally gluten free and a fun new flavor for banana bread!
6. Gingerbread Banana Bread
Gingerbread Banana Bread is moist, and fluffy with rich molasses and warm gingerbread spices. Naturally gluten free and dairy free!
7. Banana Walnut Chocolate Chip Muffins
Almond Flour Banana Muffins are a healthy twist on the deliciously sweet classic. They're paleo-friendly, gluten free, and dairy free! Add in your favorite mix-ins like some chocolate chips and walnuts!
8. Nut Free Banana Muffins
Obsessing over these nut free banana muffins! They're deliciously moist and use real food, feel good ingredients that are gluten free and dairy free!
Banana Cakes & Bars
9. Moist Banana Oat Flour Cake
Banana oat flour cake is super moist and decadent. It's naturally gluten free and topped with a fluffy peanut butter whipped cream frosting!
10. Chocolate Chunk Banana Cake
Forget about bread! This scrumptious gluten-free Banana Cake is sure to shake your post-holiday blues and get you excited for the warmer months ahead.
11. Microwave Banana Mug Cake
Banana mug cake is only 6 ingredients and bakes in under 2 minutes! The result? Fluffy and moist microwave chocolate chip banana mug cake!
12. Banana Chocolate Chip Bars
Banana chocolate chip bars are a delicious way to use up some spotty bananas! They are the perfect easy snack or treat during the day!
13. Pumpkin Banana Cake Bars
Super moist gluten free pumpkin banana bread bars are made with warm autumn spices. The perfect recipe for an easy pumpkin treat!
14. Chocolate Chip Zucchini Bars
Zucchini Bars are loaded with chocolate chips, shredded carrots and pecans. They're a soft, fluffy and moist gluten free zucchini bar!
Cookies & Snacks
15. Banana Bread Breakfast Cookies
Banana Bread Cookies make a wholesome and kid-friendly make ahead breakfast! They're naturally sweetened, gluten-free, and dairy-free!
16. Banana Oatmeal Breakfast Cookies
Banana oatmeal breakfast cookies are hearty and loaded with chocolate and oats! They're gluten free and perfect any time of the day!
17. Blueberry Muffin Top Breakfast Cookies
Eat cookies for breakfast! These Muffin Top Breakfast Cookies are a low carb, gluten free, and paleo-friendly treat that even your kids will love!
18. Trail Mix Breakfast Cookies
I can't wait for you to try these gluten free + refined sugar free Trail Mix Breakfast Cookies!! They're so hearty and perfect to grab for an easy morning meal!
19. Easy Banana Overnight Oats
Only five ingredients and five minutes to make this banana overnight oats recipe. It's a quick and easy vegan breakfast to prep ahead.
20. Banana Blackberry Ice Cream
Really fun and delicious Banana Blackberry Ice Cream! It's dairy free and only a few ingredients!! You'll love this summery sorbet recipe!
21. Dairy Free Cherry Ice Cream
I'm obsessed with this dairy free + vegan Cherry Ice Cream and you will be too! It's only a handful of ingredients and so easy to whip up!
22. Chocolate Covered Banana Pops
Chocolate Covered Banana Pops are a healthy summer treat! Perfect to make with your kids, top with your favorite sprinkles, and stash in your freezer!
23. Banana Bread Oat-less Oatmeal
Make your mornings run smoothly with this Banana Bread Oat-less Oatmeal! It's gluten free, vegan, and packed with nutrients to start your day!
24. Cookie Dough Nice Cream
This Cookie Dough Nice Cream is so refreshing and perfect for summer! The ice cream is packed with gluten free cookie dough and made entirely from bananas!
25. Banana Bread Buckeyes
My kids LOVE these vegan and gluten free banana bread buckeyes!! Really fun and delicious way to use those spotty bananas for a tasty snack!
26. Banana Jam
Banana Jam comes together in only 5 minutes with only six ingredients! Once you try banana jam, you'll be putting it on everything!
27. Sweet Caramelized Bananas
Caramelized Bananas are so sweet and simple to make in under 10 minutes! Once you make these fried bananas, you'll put them on everything!
28. Banana Pudding (recipe below)
Banana Pudding is so easy to make in under 10 minutes! Layer it with whipped cream and vanilla cookies.
Drinks
29. Banana Apple Smoothie
Apple Banana Smoothie is such an easy, healthy, and delicious way to start your day! With only five ingredients, it's so easy to blend up!
30. Raspberry Smoothie
This raspberry smoothie recipe is full of sweet berries, banana and kale. It's blended into a smooth & creamy smoothie perfect for breakfast!
Banana Pudding Recipe
Recipe
30+ Banana Recipes, including Banana Pudding
30+ banana recipes perfect for any occasion! Here you'll find tons of recipe inspiration from banana breads, bars, cookies, snacks and more!
Prep:
5 min
Cook:
10 min
Total:
15 min
Instructions
In a large bowl or measuring cup, mash the bananas. 
Add the milk, arrowroot, agave, and vanilla. 
Use an immersion blender to blend until it reaches desired consistency. If you don't have an immersion blender, you can mash the bananas to desired consistency before adding the rest of the ingredients, or blend for about 20 seconds.
Pour into a pot over medium heat and whisk consistently for 5 minutes until thickens. 
Allow the banana pudding to cool. 
Break apart your cookies, I used about 2 cookies per serving.
Layer the cookies, whipped cream, and banana pudding. Top with whipped cream, a crumble of the cookie, and two banana chips. 
Tips
Nutrition facts are calculated without the cookies and banana chip garnish. Whatever cookies you end up using, add them to the final nutrition count 🙂
Nutrition Info:
Serving Size:

1 jar

Calories:

171

Sugar:

18.4g

Sodium:

30mg

Fat:

8.1g

Saturated Fat:

4.9g

Unsaturated Fat:

0g

Trans Fat:

0g

Carbohydrates:

23.5g

Fiber:

1.1g

Protein:

2.8g

Cholesterol:

28mg